Cyclist killed in collision with car was police officer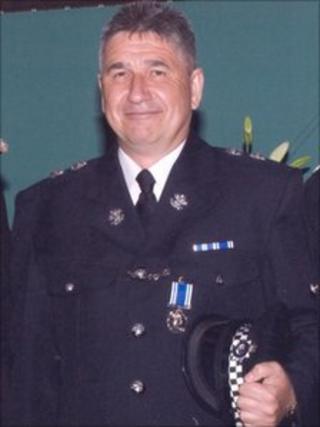 A Gwent Police sergeant was killed in a collision with a car as he cycled with others on Thursday night.
Steve Burt, 53, from New Inn, near Pontypool was struck on the A4042 near Llanover just before 2300 BST.
The 77-year-old driver of a blue Volkswagen Golf travelling in the opposite direction was not injured.
Gwent Police said Sgt Burt, who leaves a wife and three grown-up children, had served for 27 years and was "very well-respected".
The force said the cyclists was heading towards Pontypool when the incident happened. The car was travelling towards Abergavenny
Sgt Burt was pronounced dead at Nevill Hall Hospital in Abergavenny
Gwent Police said he had served in a variety of roles in his career, receiving his long service and good conduct medal in 2005.
Chief Constable Carmel Napier said: "Steve was a very well- respected officer with an excellent, long standing, record of service.
"He will be very sadly missed by his friends and colleagues who remember Steve as a gentleman and true professional who always made a positive contribution to the force.
"Of course our thoughts remain with Steve's loved ones, especially his wife and children at this tragic time."
Sgt Burt is survived by his wife Debra, daughters Sian and Louise, 25, and son Jonathan, 22.
The family also paid tribute, saying: "Steve was a loving husband and father who always put his family first.
"He made us laugh, he made us cry but most of all he made us feel loved and special. He will be remembered and missed by us all," they said in a statement issued via Gwent Police.
Officers said the car driver was from the Crickhowell area of Powys.
The road was closed for several hours in both directions. Police are appealing for witnesses.
Anyone with any information is asked to phone Gwent Police on 01633 642404.