More than 200 jobs saved at Merthyr's Triumph Furniture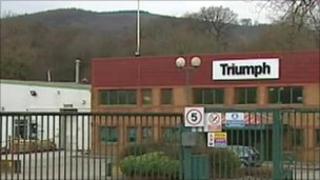 More than 200 jobs have been saved after a furniture company was bought out of administration.
The Triumph Furniture Company, which has supplied office furniture in Merthyr Tydfil and Tredegar for 60 years, was bought out by the firm's management team.
Partners at FRP Advisory became joint administrators when Triumph went into administration on 11 March.
The insolvency firm called the family-run business "a respected local brand".
The joint administrators - Nigel Hamilton-Smith, Geoff Rowley and Charles Turner - have been trading the business as a going-concern, while reviewing a number of expressions of interest from potential buyers.
Commenting on the sale, Mr Hamilton-Smith said Triumph was "a respected brand and a key local business".
Although administrators were "delighted" with the strong level of interest, they added it was "crucial to identify a suitable buyer to safeguard the company's future".
'Supply and choice'
"Often the best offer in these cases comes from the incumbent management team - they see the greatest potential and value in the business and, where the financial challenges have been down to external forces, are best suited to take the company forward," said Mr Hamilton-Smith.
He added that the sale "not only protects the jobs of over 200 staff, it represents the best possible deal for creditors and retains the talent and experience of the management team."
Triumph chief executive Andrew Jackson said the new restructuring gave an opportunity to "provide continuity and reliability of supply and choice" in a challenging market.
Mr Jackson added the company needed to "make sure we have the right product range at the right price for today's business; and the opportunity to do what we've always done well: offer the trade new ideas which can bolster the work of all our dealers in difficult times".
He added: "We are looking forward to the future and shall continue to support the UK office furniture business."