Copper theft hits Monmouthshire and Newport broadband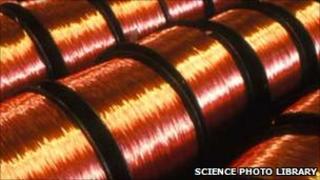 Gwent Police and BT is appealing for help after copper thefts caused thousands of pounds worth of damage and cut services in parts of south Wales last week.
Residents and businesses in Monmouthshire and Newport were affected when 80m of cable was stolen in Tredegar Park.
Two days later attempted thefts in Newport hit services again.
The price of copper has risen 41% leading to a rise in thefts.
A Gwent Police spokeswoman confirmed that 80m of cable was stolen early on Wednesday, 4 May, from the junction box in Morgan Way, Tredegar Park.
"There have been a number of incidents since Friday, 6 May involving criminal damage and attempted theft of cable where it appears people are trying to steal copper in the Imperial Way and Duffryn Drive area," she added
"We had reports from Virgin and BT with thousands of pounds worth of damage reported.
As neighbourhood police teams carry out patrols in the area, British Telecom has also appealed to people in the area to be vigilant and report anything they believe is suspicious.
"Such attacks on BT's network costs BT millions of pounds each year," a spokesman told BBC Wales.
"Network security is of paramount importance to us and we are constantly monitoring our processes to make sure our infrastructure protection is robust.
"To combat cable theft, BT's security unit has established a nationwide intelligence-led task force whose strategy includes attending crime scenes, liaising closely with police and visiting scrap metal dealers.
"More than 400 people have been arrested across the UK for stealing from our network in the past year."
Anyone with information is urged to contact Gwent Police on 101 or Crimestoppers on 0800 555 111.
A group involving Gwent Police, the Welsh Assembly Government, utility firms and rail operators has already been set up to combat the growing metal theft problem.
Welsh Utilities Pan Wales Metal Theft group was set up in September 2010 aimed at sharing intelligence and identifying trends in relation to thefts.
Network Rail said on Tuesday that metal thefts were costing the railways around £1m a year and the British Transport Police predict the cost of copper will go up by a further 10%.
The number of cable thefts on the Wales and the Marches network tripled from 28 in 2009/10 to 84 in 2010/11.