Friends' 'worry' over safety of accused Yvonne Freaney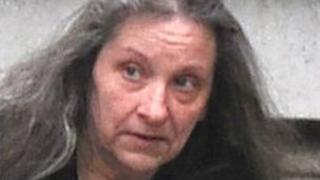 Friends of a mother accused of murdering her autistic son went to police after becoming concerned for her safety, a court has heard.
Yvonne Freaney, 49, admits the manslaughter of her son Glen, 11, at a hotel near Cardiff Airport, but denies his murder.
Anthony Lewis and Lindsay Todd said they spoke to Mrs Freaney on 15 May last year. Ms Todd said she feared she "might do something stupid".
The trial continues.
Cardiff Crown Court heard that Yvonne Freaney and her husband were involved in the running of the Royal Air Force Association in Penarth. He was the chairman and she was the treasurer.
On Wednesday, the jury heard a statement from Mr Lewis, who was also involved in the club, about how he had contacted Mrs Freaney.
He said during that phonecall her voice was quiet, sluggish and she sounded drowsy.
Mr Lewis said this was concerning as some weeks earlier she had confided in him that she felt depressed and suicidal.
At the time Mr Lewis said he had asked: "What about Glen?" and Yvonne Freaney had replied: "Don't worry, Glen will be all right."
Mr Lewis then asked Lindsay Todd, a customer at the club who knew Yvonne Freaney, to call her again to make sure he was not over-reacting.
In her statement read to the court, Lindsay Todd said she called Yvonne Freaney, telling her: "Tony's asked me to call you because he's worried you might do something stupid."
In a quiet and mumbling voice Mrs Freaney replied: "I already have."
'Nightmare'
The pair then went to police, who later discovered Mrs Freaney and the body of her son, who had been strangled, in a room at the Sky Plaza Hotel in Rhoose, Vale of Glamorgan.
The jury has previously heard that that Glen was severely autistic, still wore nappies and needed help dressing, washing and feeding.
Mrs Freaney cared alone for her four children when her former RAF husband worked away from home, the court has heard.
She had raised three older children with disabilities and was living in a "nightmare" of care.
Her other children have ADHD, dyspraxia and Asperger's Syndrome respectively.