Cerys Matthews writes children's book of Welsh legends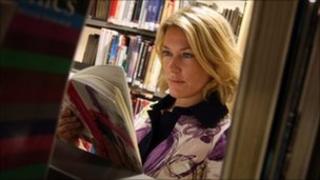 Musician and DJ Cerys Matthews is launching a new venture as a children's writer with her first book.
Tales from the Deep features stories based on the Welsh legends of Cantre'r Gwaelod and The Maid of Llyn y Fan.
The former Catatonia singer is aiming to bring the stories to life for a new generation as she launches the book in her native Cardiff on Wednesday.
She said: "I'm an avid reader and love storytelling, with song and without, in line with the oral tradition of Wales."
The first story, The Ghost Bells of the Lowlands, adapted from the legend of Cantre'r Gwaelod, tells how a village watchman fails to warn of a storm coming, placing the villagers at the mercy of the sea.
The second tale, Myddfai Magic, adapted from The Maid of Lyn y Fan, is the story of a farmer who sees a beautiful girl emerge from the lake as he tends to his animals one day.
The third time that he sees her, he asks her to marry him, not knowing it will change his life forever.
Matthews said she'd heard the stories as a child in school in Swansea, and hoped her book would inspire today's youngsters in the same way.
"I have loved reading all my life, and written stories in song for all of my adult life - over 20 years now," said Matthews.
"It feels a natural progression to do this now, especially having had three children of my own and knowing exactly how they love to be read to, and how they are interested in history too."
The singer said she was partly inspired by the work of Pembrokeshire artist Fran Evans who has provided illustrations for the book.
"The illustrations by Fran were so evocative," she said.
"They immediately sent my imagination into overdrive. It didn't take long for the verse to come, for the stories to unfold in words."
Matthews revealed that she had received a mixed response to the book from her two eldest chidren - Glenys, seven, and five-year-old John-Jones.
"Glenys particularly is fascinated by strange stories, especially ones she knows are old like these.
"John-Jones would, I must admit, prefer me to read from his very thick, very dry aeroplane manual ... for talk of wing widths, engine powers and bomb capabilities!"
She will also be talking about her book and playing her music at events at the Hay Festival in June.
Matthews, who is currently touring the UK with her band, has also won critical acclaim for her work as a radio DJ on the BBC station 6 Music.