Royal wedding: Church says parties 'unite nation'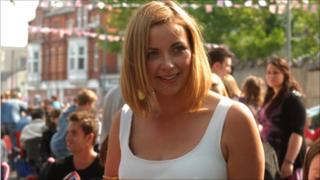 Singer Charlotte Church got a Cardiff street party into full swing as she joined the royal wedding celebrations.
Union Jack bunting lined the city's streets following the marriage of Prince William and Kate Middleton, the new Duke and Duchess of Cambridge.
Not all could boast a celebrity guest, but Church joined neighbours in Canton where her family used to run a pub.
The singer said the royal marriage seemed "to have brought the whole nation together".
The singer was at the party with her boyfriend Jonathan Powell and two young children with Wales rugby international Gavin Henson, Ruby. three, and Dexter, two.
"It's the first street party I've been to. I grew up in Canton and all of my family live around here and all of our family friends," said Charlotte.
"It's great to be around lots of friends and family and to get everybody together, it's great community spirit."
The singer added that she had enjoyed watching the wedding and complimented the duchess on her bridal gown.
"I watched the wedding, it was lovely. I thought she looked beautiful," she said.
"It just seems to have brought the whole nation together, it's a joyful occasion...there's nothing better than an old-fashioned romance."
Partygoers joined Charlotte as they crowded around trestle tables laden with homemade sandwiches and a feast of cake.
And there was entertainment for all generations, with street performers, facepainting and mobile discos.
Laughter and chatter almost drowned out the music, as smiling grandparents watched children leaping around on bouncy castles in the glorious spring sunshine.
At a time when many people barely know their neighbours, this was a perfect opportunity to forge new friendships and indulge in some community spirit.
Paul Careless, who organised the street party in Canton's Severn Grove, said: "We've catered for about 150 children today. With the state the country is in at the moment, it's good to have events like this to bring everybody together.
Cheese sandwiches
"There are people who don't talk to each other and something like this gets them sitting down and getting to know each other."
It might sound like a scene from post-war street parties in days gone by, but many of Cardiff's communities were eager to celebrate their multiculturalism.
Theresa Debono, who was celebrating with her five-year-old grandson Jacob in Adamstown's Comet St, said: "We've got Indian families and Muslim families here in the street so we made sure we catered for them with the food.
"The local restaurants have helped, so we've got cheese sandwiches, onion bajis, samosas, the lot.
"And one of our neighbours will be playing some Turkish music for us later."