Royal Wedding: Community spirit shows in Monmouthshire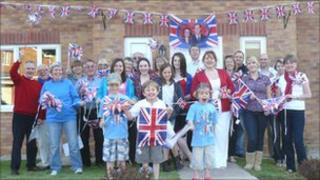 Organisers of street parties across Monmouthshire say they hope their celebrations will create a new sense of community in their neighbourhoods.
For them, the royal wedding isn't just a TV spectacle, it's also a rare chance to bring local people together.
Street party plans have already led to a new residents' association, fund-raising for a play area and a new role for a neighbourhood watch group.
Monmouthshire council has approved 10 royal wedding street celebrations.
Whilst the organisers will be watching Prince William and Kate Middleton on TV, they admit their real focus is closer to home.
"It's more of an excuse, to be honest with you... we always say that we should do something but we never do," said Colita Dainton, an organiser in Abergavenny.
"We're not particularly royalists. It's more community spirit that we're doing it for," said Brenda Christopher in Caldicot.
Celebrating the royal wedding has proved the perfect opportunity for neighbours to meet and work together, where they haven't done before.
Debbie Mather said of her party in Monmouth: "It's for the children, but some of the older residents have said "Thank you for this, we haven't had any sense of community here".
For Paul Taylor, planning a party in Abergavenny, it has proved an opportunity to expand the role of his newly-formed neighbourhood watch group.
He said: "A number of people asked are we going to be doing anything for the royal wedding. We're the only group in the area."
But the street parties are not just about celebrating one day in the life of the heir to the throne; the organisers are keen to create a legacy.
"We are of an age where we remembered the 1977 silver jubilee; we wanted our children to have something to remember too," said Mandi Rugen-Hankey, a party organiser in Monmouth.
Gina Mayo, in Chepstow, hopes her local party gives local children greater community spirit: "I hope that young people will remember this and do something like it themselves in the future."
Yet, as well as happy memories, some aim for their street parties to leave a more concrete legacy.
In Caldicot, Four View Residents Association has been formed to organise the party, and it is using their wedding celebration as an opportunity to raise funds for local children.
One of the organisers said: "All the money that we hope to raise, we hope to build a play area on a nearby field.
"There was nothing [here], there was the old neighbourhood watch. But there was never anything to bring everyone together before."
Whilst the organisers are spending many hours of planning and preparation to create happy memories and closer neighbourhoods, there is one thing they can't plan: the British weather.
But as one determined woman who will be attending Mrs Dainton's party told her: "Well, if it rains, we'll all come out with umbrellas."