Salvador Dali painting Sacred Cow in Cardiff auction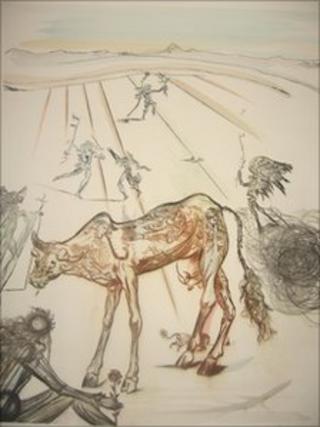 A painting by renowned artist Salvador Dali will be up for sale at a south Wales auction this summer.
The etching, hand-coloured by the artist and titled Sacred Cow, will be offered by the Welsh Art Auction in Cardiff on Friday 10 June.
The firm said it was bought from Swedish model Nena Thurman, mother of actress Uma, by a Welsh gallery owner and has been in Wales since 1991.
Auction co-ordinator Mark Evans said it could fetch between £12,000 to £20,000.
Mr Evans explained that the etching was designed by the Spanish Catalan-born artist as part of a limited printed run of perhaps thirty.
But, he added, it was unique in that unlike the others which would not have been coloured, this etching was hand-coloured by Dali himself.
"It's not one of his oils," said Mr Evans. "You'd normally expect to pay £30m to £40m for a canvas.
"But the value makes it slightly more accessible to a market which could not otherwise dream of being able to buy something by Dali.
"And you rarely see anything by Dali in Wales, either for sale or on display."
Buyers will be invited to submit bids at 1900 BST on the night of the auction at Penarth's Oriel Washington Gallery.
Part of the proceeds from the sale will be for the benefit the new Penarth Pavilion venture.
Salvador Dali, who died in January 1989, was a classically trained painter renowned for his surrealist paintings of melting clocks and long-legged elephants.