Royal wedding: Porthcawl designer's commissions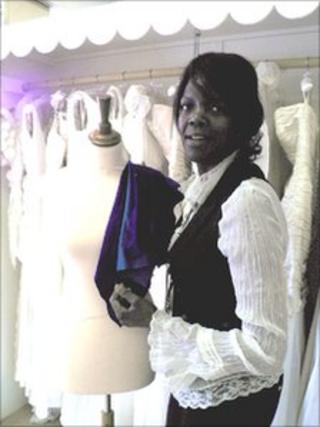 A dressmaker from Porthcawl will see her designs showcased on the world stage when Prince William marries Kate Middleton on 29 April.
Lorraine Stone, who runs Truly Scrumptious couture, was commissioned to design and make an outfit for Miss Middleton's great aunt.
Lisa Jones, wife of First Minister Carwyn Jones, will also be wearing one of her designs to Westminster Abbey.
Mrs Stone said she was delighted to be part of the celebrations.
She told BBC Wales: "I was really surprised when Kate's great aunt emailed me asking for some suggestions.
"I don't know how she came across me, so can only assume it was by recommendation.
"It's fantastic to be part of it and I'm very proud I will have two outfits at Westminster Abbey on the day.
"I think it's nice for Porthcawl that there's a business from here that has put a bit of effort into the royal wedding."
Mrs Stone has designed two bespoke outfits for her clients.
The royal bride's great aunt will be using a wheelchair on the day and she will be wearing a long jacket made of "regal" purple silk shot with turquoise.
Mrs Jones opted for a green-gold Viennese silk fitted peplum waist jacket with detail and a classic skirt.
Both customers were apparently very pleased with their outfits, the dressmaker said.
"With my business I always bear in mind who I am designing for and what suits their body shape.
"I think people see me as a Welsh version of Gok Wan as they are often popping in asking advice about outfits.
"Mrs Jones had a vague idea of what she wanted and together we came up with the design and then I worked with a local hat supplier Margaret Roberts to match a hat to the outfit."
Mrs Stone said she will be watching the TV coverage of Friday's wedding "like a hawk" to see if her outfits make an appearance.