Soldier Sophia Turner, 20, sets Afghan arrests record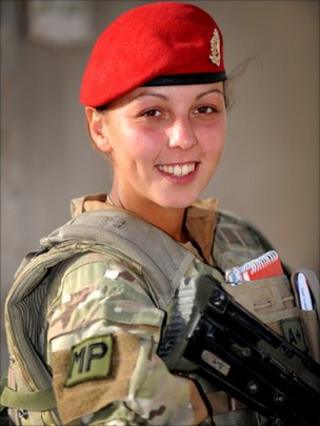 A Royal Military Police officer in Afghanistan has broken the record for the highest number of arrests in a day.
L/Cpl Sophia Turner, 20, from Neath, arrested 17 insurgents posing as Afghan police in uniform.
They were driving a stolen police vehicle with bomb making equipment in Central Helmand.
"I've never heard of a single military police officer making so many arrests in one day," said Sgt Paul Webber, the Royal Military Police (RMP).
"It's definitely a record," sais Sgt Webber, the RMP's liaison officer for 2 SCOTS Battle Group.
L/Cpl Turner was on a patrol close to Lashkar Gah, when she was called to help with an operation with 156 Provost Company attached to 16 Air Assault Brigade.
"As we went down there they said over the radio that I might have to arrest someone but it was only when I got there that I saw I had to arrest 17," she said.
"It was a lot for me to do as the only military police officer on the scene and I was exhausted at the end of it."
LCpl Turner said she had originally wanted to join South Wales Police but was too young so signed up with the Royal Military Police instead.
This is her first time on "operations" since joining the Army in 2008.
'Adrenaline rush'
She has spent most of it on patrol with officers from the Afghan National Police, attending shuras - local meetings with village elders.
It is also the first time she has come under fire.
"I saw bullets strike the ground between me and the person next to me. It was an adrenaline rush and a bit of a shock," she said.
L/Cpl Turner, who was born in Cardiff and went to Llangatwg School in Neath Port Talbot, said she is looking forward to returning home at the end of her tour of duty next month.