Pontypool £13.5m regeneration scheme to boost fortunes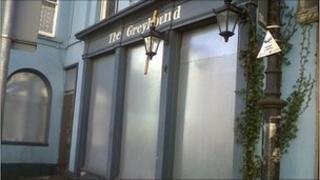 A £13.5m scheme to boost the fortunes of a town in Torfaen has been unveiled.
The regeneration programme aims to revitalise Pontypool town centre and nearby Garndiffaith and Trevethin.
The indoor market and local community centres will be improved, while vacant and run-down buildings will be restored for commercial or training use.
The Welsh Assembly Government is giving £10m, with other cash coming from Torfaen council, Bron Afon Community Housing and the Heritage Lottery Fund.
Pontypool has declined since its industrial heyday, famous in the 18th and 19th Centuries for its lacquered and decorated tinplate known as japanware.
The scheme proposed by Torfaen council is to improve the attractiveness of the town, boosting community confidence and attracting economic investment.
The indoor market - a Grade II listed building - will be improved with facilities including CCTV and WiFi services.
Vacant and run-down buildings in the town will also be renovated to make them suitable for re-letting as shops or public sector use like training and employment schemes.
In Trevethin, new parking facilities will be completed at the Life Station community centre with a garden to persuade residents to grow their own food and eat healthily.
In Garndiffaith, the Corn Bin centre will be renovated to provide training opportunities.
Coun Bob Wellington, leader of Torfaen council said: "This project will increase economic investment into the area and raise resident and business confidence.
"The bid aims to improve links and create greater cohesion between communities throughout the area by removing physical barriers, improving connectivity and providing new services that meet local needs and create a 'hub' for community activity and interaction."
Measures will also be introduced to boost walking and cycling routes between Pontypool town centre and nearby residential areas.
Business minister Jane Hutt said: "I am delighted that through managing our resources, including EU funds, we have been able to back this project which will instil renewed pride in the community, bringing further economic and social opportunities for people living in the area."
As well as shops, visitor attractions in the area have suffered from the recent economic downturn.
In January, Griffithstown Railway Museum closed while a month later Torfaen council announced plans to close the ski slope in Pontypool Park over the summer as part of £9.2m budget cuts.