English Democrats want vote on Monmouthshire Welshness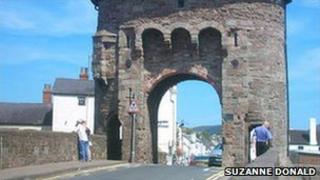 A political party which wants an English Parliament has called for a referendum on making the Welsh county of Monmouthshire part of England.
The English Democrats, at their spring conference in Middlesex, say they want the vote to settle the issue.
Monmouthshire was the only council area in the referendum to reject direct law-making powers for the Welsh assembly.
The party says residents need the final say in an old debate. The assembly government has been asked to comment.
All the other 21 Welsh counties voted Yes in the 3 March referendum. Monmouthshire said No, although by a narrow margin of 50.6% to 49.4%, with just 320 votes in it.
But with a turnout of 35.4%, English Democrats' chair Robin Tilbrook said more people abstained, which was also an indicator of the local electorate's feelings towards the assembly.
He told BBC Wales' Sunday Supplement programme that a "democratic decision" was the best way to settle the question.
"We are not trying to tell people anything, what we are trying do is campaign for there to be a proper decision that would resolve the question once and for all," said Mr Tilbrook, founder of the English Democrats.
History shows Monmouthshire has been part of the old Welsh county of Gwent and its English neighbour, Herefordshire.
Its status as a Welsh county fell into doubt in 1543 when it was omitted from the second Act of Union which established the Court of Great Session legal system in Wales.
As a result, until 1900 certain Welsh laws - like former Sunday pub licensing hours - were deemed not to apply to Monmouthshire.
Its status as part of Wales was reconfirmed in 1974 when the administrative county was replaced by Gwent.
A smaller, mainly rural council called Monmouthshire was created in the local government reorganisation of 1996.
Monmouth MP David Davies told BBC Wales the whole argument was "nonsense."
He said Monmouthshire has always been a part of Wales and was only separated legally to make life easier for Henry VIII.
Mr Davies said just because people in the county voted No to further Assembly powers did not mean they wanted to be a part of England.
Welsh actor and singer Brian Hibbard, who was born in Monmouthshire, said he was a "passionate Welshman" but that the county could be "split down the middle" between people who see themselves as either English or Welsh.
"It's not a new debate, that's the thing," he said.