Board game aids understanding of bipolar disorder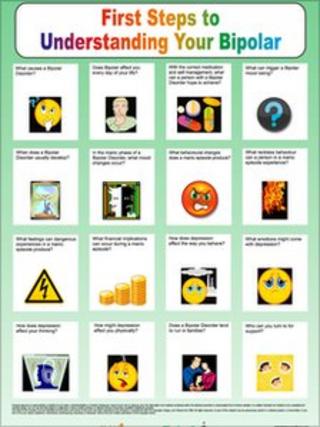 A board game has been developed to promote better understanding of bipolar disorder and how it affects sufferers.
Jocelyn Duncan, from Caerphilly, lived with the illness, characterised by severe mood swings, for decades before being diagnosed.
She runs a self-help group and created the game as an education and communication tool.
It has been evaluated by Glamorgan University and health officials plan to pilot it in the community.
Ms Duncan's bipolar disorder was triggered aged eight by a major trauma in her life.
She describes receiving her diagnosis finally at the age of 57 as "one of the best days of my life. I now had a face to my enemy."
After a serious adverse reaction to the mood stabilising medication she was prescribed, Ms Duncan began researching ways of controlling her condition without using medication.
She established a bipolar self help group in March 2009.
Whilst setting up the group she realised that there was a need for an effective communication tool to explain the complex nature of the illness.
Often sufferers found it hard to pass information about the illness on to family and friends and this inspired Ms Duncan to come up with the idea for a game.
It involves a board made up of a series of squares, each containing a question.
The answers are on separate cards which then have to be matched up to the questions. Those playing the game discuss the questions and this allows everyone to get a better understanding of a bipolar sufferer's symptoms and mood swings.
She says "If I could be granted one wish it would be for everyone with a bipolar disorder to have the knowledge to understand their illness in the way that I do," she said.
"With a clearer understanding there would be large numbers of people who could have help to control their lives."
Ms Duncan said the game is intended to allow people to learn about the illness and talk about it as a family or group.
"It teaches you ways to cope and helps you understand more effectively and quicker than any other system or book," she said.
"The feedback we are getting is that the boards have helped individual sufferers to mannage their illness and improve their quality of life."
Dr Anne Fothergill, a principal lecturer in mental health research at the University of Glamorgan said the game had been evaluated with nursing and social work students and qualified staff and initial results were "extremely promising indeed."
Health policy expert Professor Marcus Longley adds "Mental health is an issue that goes right across the NHS and social services. So much of the stigma attached to mental health issues comes from a lack of understanding."
He said the board game would now be "rigorously assessed".
He added: "If it is proved to work, it should prove to be a beautifully simple tool to tackle deep-rooted misunderstanding."