Nikitta Grender funeral: Hundreds attend church service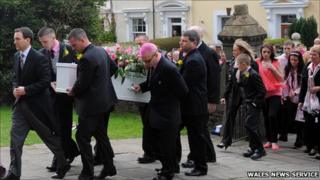 Around 500 people have attended the funeral in Newport of pregnant teenager Nikitta Grender and her unborn daughter.
The coffin of the 19-year-old was carried into St John's Church, Maindee, by her 18-year-old boyfriend Ryan Mayes, her father and other relatives.
The church was so crowded for the hour-long service that many mourners had to stand at the back.
Ms Grender's body was found in her burning flat in Newport last month.
A 26-year-old man has been charged with her murder.
The Reverend Helen Hall, who led the service, told those gathered: "We are here to say a formal goodbye to a happy, lively young woman and her much-loved and much-wanted baby.
"If the world was as it should be, and as our loving God desires it to be, there would be no need for a funeral today.
"Both Nikitta and Kelsey-May [her unborn daughter] had everything to live for. There was so much that they could have done and been and given.
"Their time on Earth should not have been so cruelly cut short.
"We are here in the shadow of a terrible injustice and act of evil and we cannot pretend otherwise."
The Bishop of Monmouth, the Rt Rev Dominic Walker, was also in attendance and led the prayers during the service.
Speaking afterwards, he said: "The family are in very deep grief, as you would expect.
"They were grateful to have the funeral and that they hadn't been kept waiting too long.
"This at least is one step in the journey to coming to terms with what's happened.
"They'll never get over it but at least they can come to learn to live with it. They are going through that journey of grief."
Earlier, Ms Grender's family issued a statement through Gwent Police thanking the public for their support as they continued to live in a "nightmare".
"We would like to thank everybody for all their support in what has been a traumatic time for our families," the statement said.
"We realise that there is a long way to go yet. We ask that Nikitta and Kelsey-May are not forgotten as we continue to grieve for them both.
"We continue to live in this nightmare and now have to face the next few months ahead of us awaiting the forthcoming trial.
Burning flat
"We ask to be left alone with friends and family to get through this period."
Ms Grender was found stabbed by firefighters on 5 February in her bedroom in Broadmead Park.
The body of Ms Grender, who was two weeks from giving birth, was found in her burning flat last month.
Carl Whant, 26, from Newport, has been charged with the 19-year-old's murder, and child destruction.
His trial is likely to start at Cardiff Crown Court at the beginning of October.