Alcohol Concern wants supermarket drink restrictions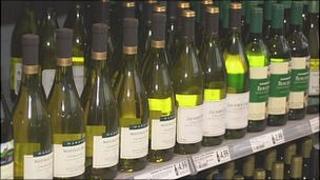 Alcohol campaigners have claimed supermarkets are fuelling a "drinking culture" after a snapshot survey.
Alcohol Concern Cymru visited a branch of each big chain in Cardiff in one day and found beer and wine on sale near doors and the tills, as well as on food aisles.
It wants sale points restricted to one aisle.
But retailers said the survey before Christmas was "small scale" and "skewed".
The supermarkets say they already promote a "responsible attitude to alcohol", adding that it did not help to "demonise" it.
The research involved a single visit to a branch of each supermarket in Cardiff on a single day in December 2010.
However, Alcohol Concern Cymru says the current sales policy promotes alcohol as a "normal commodity", like any other drink.
Mark Leyshon, from the charity, said: "Supermarkets are overflowing with discount alcohol, and it's often displayed throughout the store.
"It's now common practice to sell wine next to ready-meals for example, pushing the idea that a relaxing meal should be accompanied by an alcoholic drink.
"Such practices promote alcohol as a normal commodity, like any other type of food or drink."
The charity commissioned an independent research company to undertake a "snapshot survey" of four Cardiff supermarkets - Sainsbury's, Tesco, Morrisons and Asda - recording where alcoholic items were located.
'Demonise'
They say they found discounted alcohol at the front of one store entrance, bottles of wine at the fish, meat and deli counters, and bottles of champagne next to milk.
Andrew Opie, food director for the British Retail Consortium, said as the "small-scale" survey was carried out in December, its findings would be "skewed" as it took place at a time when there was "increased customer demand" due to the Christmas period.
"There's no evidence to link the way alcohol is sold currently to irresponsible drinking," he said.
"Solving problems caused by alcohol depend on a change in culture.
"Retailers are focused on promoting a responsible attitude to alcohol. It doesn't help to demonise it."