Mother-to-be found in Newport flat fire was stabbed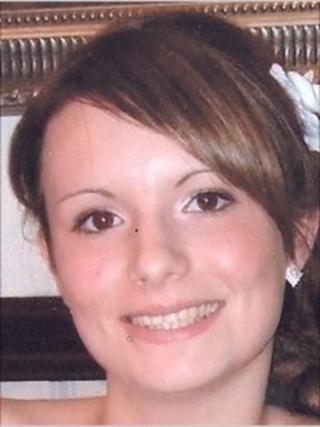 Detectives investigating the murder of a 19-year-old mother-to-be in a flat fire in Newport say she was stabbed.
The body of Nikitta Grender, who was eight months pregnant, was found at the flat in Broadmead Park, Liswerry, by fire crews on Saturday.
Police have set up a major incident team and are conducting house-to-house inquiries in the area.
Det Supt Geoff Ronayne called it a "horrific crime where two innocent lives have been lost".
He said: "Nikitta was two weeks away from giving birth to a baby girl.
"This is particularly callous and something we very rarely see. When Nikitta's family should have been looking forward to the birth of her baby they are now absolutely grief stricken."
Ms Grender's body was recovered by crews using breathing apparatus and thermal imaging cameras after a fire in the bedroom of the flat just before 0800 GMT on Saturday.
Police said a post-mortem examination showed that Ms Grender has been stabbed.
Detectives are searching for a knife which has not yet been found but this was a priority for search teams, he said.
Ms Grender's pet dog also died in the fire.
Fifty officers are working on the investigation and they will be looking at CCTV as part of the inqury.
Specially trained officers are supporting the family of the teenager.
Det Supt Ronayne, who is leading the murder investigation, appealed for information from the public.
He said: "We know Nikitta was out with friends Friday evening and visited McDonald's in the Spytty area during the evening and we are establishing the exact time she was dropped back to her address.
"But we would urge anyone who was in the vicinity of Nikitta's address in 51 Broadmead Park, was with her or who saw her at any stage from 7pm on Friday February 4 onwards to get in touch.
"Someone must know who did this and we are urging members of the community to come forward and help us with this inquiry."
He added it was one of the "worst offences" he had seen.
"We are working on the basis that this crime is locally based," he said.
"Somebody knows where the knife is and we urge them to come forward."
Supt Dave Johnson said members of the police neighbourhood team were available to speak to anyone with information and a mobile police office has been set up.
Friend Jenna White, 17, said Ms Grender had known she was having a baby girl and she was really looking forward to being a mother.
"She was an amazing girl - always happy, beautiful and lovely," she said.
Anyone who has any information can call the police inquiry team on 01443 865562 or call police on 01633 838111 or Crimestoppers on 0800 555111.