Police hunt 'cruel and cowardly' burglars in Cardiff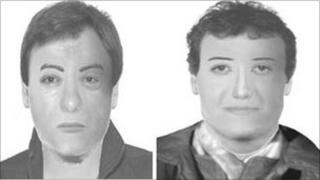 Police have issued e-fits of two men described as "cruel and cowardly" who carried out a distraction burglary at the Cardiff home of an elderly woman.
The pair claimed to be carrying out repairs on a neighbour's garden wall. They entered the woman's house offering to carry out free repair work.
Soon after they left, the woman discovered a "significant amount of money" had been stolen.
Police say the incident happened on Romilly Road, Canton, on Wednesday.
Det Sgt Tudor Thomas said: "The victim feels she has been deliberately targeted and is very upset.
"She is also frustrated because she is normally extremely cautious about letting people into her home without identification.
"These two men have been extremely convincing in their approach but ultimately cruel and cowardly.
"The lady has recently been widowed and undergone a hip operation so this has had a devastating impact on her confidence."
One suspect is described as scruffy and aged in his 30s with dark hair, clean-shaven and of medium build. He was wearing jeans and a jacket.
The second is described as smart, also in his 30s, with brown hair and of a medium build. He was carrying a clipboard or folder.
South Wales Police said officers "flooded the area" as soon as the incident was reported, conducting house-to-house enquiries.
Anyone with information can contact Fairwater CID on 029 2057 1542 or Crimestoppers anonymously on 0800 555 111.