Anger at Llanishen Reservoir landfill plan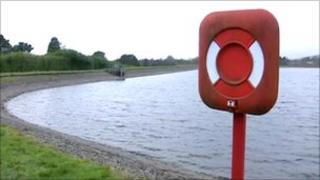 Campaigners have reacted angrily to a proposal to turn the site of a listed Cardiff reservoir into a rubbish dump.
Owner Western Power Distribution (WPD) has applied for permission to turn Llanishen Reservoir into a landfill site or use it for housing.
A group set up to protect the reservoir said there was "stringent protection" to prevent development.
Cardiff Central AM Jenny Randerson said the landfill plan was "scaremongering". WPD did not wish to comment.
"I am both appalled and saddened at this latest blatant attempt to override the wishes of the local community and the wider general public who have consistently opposed the redevelopment of this site since WPD submitted their first planning application in December 2002," said Ms Randerson.
"This latest scaremongering tactic of proposing a landfill site is scandalous and merely underlines the complete disregard that WPD has for the public and the preservation of a recently listed structure.
"They have drained the reservoir of its precious water resource and I trust that Cardiff council will treat this latest proposal for what it is - rubbish."
The reservoir is no longer in active use, but it is seen as a beauty spot and nature haven in the city.
WPD has long wanted to build on the site, creating 300 homes.
Part of the area has been designated a site of special scientific interest after rare wax caps mushrooms were discovered there.
High Court
Andrew Hill, chairman of the Reservoir Action Group, said: "I think they [WPD] think the public are naive and will say we would much rather have a housing estate than a landfill site.
"The entire reservoir structure is now a listed building. It was challenged by Western Power in the High Court. It's the most scrutinised listed structure in Wales."
He said the whole setting of the reservoir also had to be protected, which was an "enormous" area.
He added: "They don't control any access to an adopted highway. That's what anyone would need to develop any land even if they could get round the listing."
More than 100 locations have been put forward to Cardiff council as potential development sites.
Executive member for environment, Councillor Margaret Jones, said: "All those involved in Cardiff's LDP [Local Development Plan], whether developers, interest groups, or the general public, will now have the opportunity to be involved in the consideration of candidate sites."
WPD said it did not wish to comment.