Rhondda Cynon Taf council staff given final job warning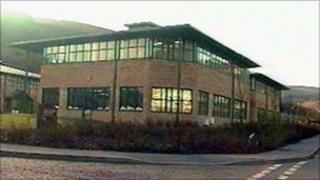 Thousands of Rhondda Cynon Taf council staff have been told to accept new conditions or public services will be cut, with hundreds of jobs losses.
Chief executive Keith Griffiths said the local authority, Wales' second largest, must save £14m next year.
He said "time had run out" on talks with unions on new terms for 14,000 full and part-time staff.
The GMB union accused the council of "bulldozing" through its plan, with some staff facing a 40% income cut.
In an e-mail, Mr Griffiths told staff that savings could be found through closing some front line services with the loss of hundreds of jobs.
But he added: "If we introduce a new pay structure following the council's job evaluation exercise, embrace a series of limited changes to our terms of employment and work hard together to improve the way we do things, compulsory job losses and service cuts can be avoided, which I believe would be a quite remarkable outcome for us all, under the circumstances.
'No pleasure'
"We have been in discussions with the appropriate trade unions since October but, unfortunately, time has now run out for further talks, if we are to maintain jobs and protect services.
"I am therefore looking to introduce changes over the next four months, which will mean that we can do away with the threat of compulsory redundancies at Rhondda Cynon Taf and avoid closing down some key council services.
"However, I cannot emphasise strongly enough the harsh reality is that if there are any delays in the introduction of these changes, hundreds of job losses will be the inevitable result.
Mr Griffiths said he would write to employees affected by the proposals within the next 21 days, to explain exactly how the changes will impact on them, and to provide them with an amended contract of employment to agree.
"I am sure you will appreciate that it gives me no pleasure to write to you in this vein, but I believe that if we all work together to implement the strategy I have outlined above, we can protect key services and many, many jobs in Rhondda Cynon Taf," he added.
GMB officer Gareth Morgan said the council's consultation with the unions had not been adequate, despite the meetings that had taken place.
He said thousands of staff faced drops in mileage allowance, essential car users' allowance, weekend enhancements and overtime rates.
Mr Morgan called on the local authority to explore more voluntary redundancies which he said would mean that lower terms and conditions would not be necessary.
Rhondda Cynon Taf has the second highest population in Wales.