Tonypandy soldier beats injury for North Pole trek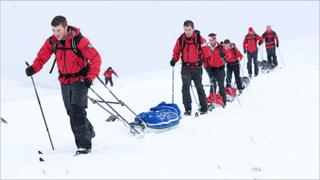 A Welsh guard who was wounded in Afghanistan is among injured soldiers hoping to trek to the North Pole.
Steve Young, 28, from Tonypandy, Rhondda Cynon Taf, was told he would never walk again after breaking his back in an IED blast.
He hopes to raise £2m with injured soldiers, two of whom hope to be the first amputees to make the journey unsupported.
The team, to be joined by Prince Harry, hopes to begin the challenge in March.
Their aim is to reach the North Pole with four wounded soldiers, including two amputees.
The team will depart from Barneo, a Russian floating station in Siberia, on 29 March.
Steve Young, a platoon sergeant with the Welsh Guards, broke his back in an IED explosion on 1 August 2009 while travelling in an armoured personnel carrier in the area of Babaji, Helmand Province.
He spent four weeks in Selly Oak hospital in Birmingham, was confined to a spinal bed for another four months, and underwent physiotherapy at RAF St Athan in the Vale of Glamorgan.
"Due to this I suffered massive muscle deterioration and weight loss, which along with my injury was treated through full time physiotherapy."
He was selected from 100 applicants to be among the four wounded servicemen to join the eight-man North Pole team.
Before training with the team in Norway, he said he had "never put a set of skis on in my life" and looked like "Bambi on ice".
The adventurers hope to cover more than 300km (250 miles) to reach the North Pole in less than four weeks.
'Determination'
Each man will pull pulks (sleds) weighing more than 100kg in temperatures varying between -15C to -50C.
"The training's going very well," said Sgt Young. "My battalion's given me plenty of time off to train.
"Training consists of plenty of tyre pulls, plenty of hill walks and making sure I've got the stamina to be able to walk for the 12 hours a day required. It's looking very good at the moment."
Sgt Young said doctors told him after the explosion that he would never walk again.
"It was a big bonus when I did," he said. "When someone tells you you can't do something I think it just spurs you on more to actually get there and achieve your goals.
"When I got given this opportunity to go to the North Pole that was one of the biggest goals out there."
Walking with the Wounded patron, Prince Harry, said: "This polar adventure will exemplify the tenacity and courage of those who serve in uniform.
"Walking with the Wounded promises to be remarkable. I salute the team walking to the North Pole in early 2011, and I urge the public to get behind them."
Survival expert Bear Grylls said: "I so admire this team and their determination to make a difference.
"And, boy, they are doing it the hard way. Brilliant."