Murder remand inmate 'died of overdose at Cardiff jail'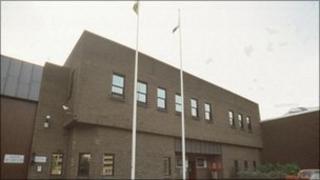 A man on remand in Cardiff Prison for the murder of his girlfriend was found dead in his cell from a drug overdose, an inquest has heard.
Darryl Smith, 40, of Trevethin, Pontypool, was charged with murdering Bobbie Stokoe, 23, in August 2009. Her body had been dumped in woodland.
An inquest jury heard one drug found in his system had not been prescribed, with a witness saying Mr Smith had exchanged tablets with other inmates.
The inquest is expected to last a week.
The first person to give evidence on Monday was Mr Smith's mother who described her son as "a good boy who always looked after her".
She told the court how he had tried to self harm when he was younger and had a history of depression which she said became severe following the death of his girlfriend.
Miss Stokoe, formerly of Maindee, Newport, was found by two local men wrapped in a carpet in undergrowth near Beeches Road, Trevethin, on 19 August 2009. She had been stabbed and beaten.
At her inquest last February, the Gwent coroner recorded a verdict of unlawful killing.
That inquest was told that on the day Miss Stokoe, a carer, died she had left Mr Smith and been placed in a women's refuge in Newport. However, just hours later she had returned to Mr Smith.
Mr Smith was later charged with her murder and was on remand in Cardiff Prison when he was found dead in his cell in October 2009.
Mr Smith's mother described visiting her son in prison, where he told her how he felt terrible about what happened and could see Miss Stokoe's face every time he closed his eyes.
She told the inquest he couldn't live with what he'd done and described how he tried to commit suicide once before in prison, before he was moved to the health wing.
Pathologist Deryk James conducted the post mortem examination on Mr Smith's body.
He told the court how Mr Smith had a number of drugs in his system, with extremely high levels of two in particular, Dihydracodine and Tramodol, both painkillers.
The pathologist explained that although people can build up high resistance to both drugs, the levels in Mr Smith's body could have been fatal.
And he concluded the cause of Mr Smith's death to be "Tramodol and Dyhydracodine toxicity".
The inquest in Cardiff heard Mr Smith was being held on the health wing of the prison, where he had been prescribed a number of drugs by medical staff.
He had been prescribed all of the medicine found in his body - except for Tramadol.
The court heard from three prisoners. One told the court that Mr Smith had told him he was planning to take an overdose.
Another said he'd seen Mr Smith exchanging tablets and tobacco on a number of occasions.
And a third described finding Mr Smith dead in his cell. He told the court "anything is possible in prison if you're determined enough".
The inquest continues.