Rugby match in Torfaen for domestic abuse victims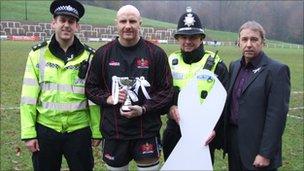 Wales has staged its first rugby match in honour of victims of domestic abuse.
The White Ribbon cup was awarded at a match between Pontypool RFC and Swansea held at Pontypool Park in Torfaen.
The home side teamed up with Gwent Police and Women's Aid to launch the new trophy, which aims to raise awareness about violence in homes across the force area.
The match, won by Swansea 38-15, comes ahead of international White Ribbon Day on 25 November.
A series of similar matches will take place at sports clubs around the UK throughout the week to raise awareness of domestic abuse, culminating in the English Premier League fixture between Manchester City and Stoke City on 27 November.
Saturday's match at Pontypool Park also saw players from both sides donning white ribbons, while representatives from Torfaen Women's Aid collected donations from the crowd.
The charity provides support, advice and refuges to anyone experiencing domestic abuse.
Insp Nick McLain, of Pontypool Neighbourhood Policing Team, said: "Domestic abuse can be devastating for victims - across the UK two people are killed by their partners each week.
"I hope this joint campaign will encourage any victims in Pontypool to seek help by reporting instances of abuse to the police, or by contacting the Wales Domestic Abuse helpline.
"If anyone has friends or relatives who suffer from such abuse, please let them know there is help and support available to them.
"We work closely with Torfaen Women's Aid and our aim is to foster a zero tolerance attitude to domestic violence."
Police officers were at the game to distribute posters and speak to rugby fans about the campaign.
Pontypool RFC managing director Frank Stanton urged all supporters of the sport to get behind the cause.
He said: "The club is very happy to support such an initiative in the local community."
Jemma Wray, director of Torfaen Women's Aid, said: "We are really pleased to be working with Gwent Police and Pontypool RFC on this initiative and we really value their efforts in raising awareness of the White Ribbon campaign.
"The White Ribbon Campaign is specifically aimed at getting men to stand up against domestic abuse of all forms."
Anyone who wants to report domestic abuse should call Gwent Police on 101, or the Wales Domestic Abuse Hotline on 0808 8010 800.
Related Internet Links
The BBC is not responsible for the content of external sites.