Teenagers jailed for 'ferocious' Mountain Ash murder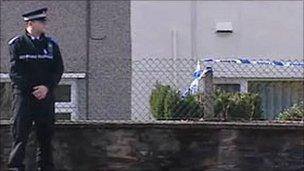 Two teenagers who murdered a man at his home in were caught after boasting to friends, Cardiff Crown Court heard.
Richard Shanahan and Adam Smith, both 18, were jailed for life for a "prolific and ferocious" attack on Richard "Dickie" Dyas.
They admitted murdering the ex-security guard, 47, found dead in bed at his house in Mountain Ash in March.
Imprints from Smith's trainers were visible on Mr Dyas' face and chest, the court heard.
Mr Dyas choked on his own blood after the attack.
Shanahan and Smith, both of Mountain Ash, were given life sentences on Friday.
The court heard their 22-stone victim, who was described as "friendly, naive, kind and gentle", asked them to break into his home in Mountain Ash after it was repossessed by a building society.
Prosecutor Jeremy Jenkins said: "Shanahan popped the lock and he and Smith kicked down the door and they all went in.
"Mr Dyas gave them alcohol and electrical equipment to thank them for getting him back into his home - then the pair left."
But the pair returned in the early hours while an unsuspecting Mr Dyas was sleeping.
Mr Jenkins said: "We can't say exactly what happened that night - only three people know and one of them is dead.
"But Shanahan and Smith punched, stabbed and stamped on their victim as well as whipping him with a fishing rod.
"The next day they boasted to friends about the attack and Shanahan said: "I stabbed him and kicked him and danced on his head."
Judge Mr Justice Lloyd Jones ordered Shanahan to serve a minimum of 18 years and Smith a minimum of 17 years.
The court was told Smith has since shown remorse by saying: "No one deserves what we did to him."
Mr Dyas suffered fractured facial bones and stab wounds to the chest and legs.
At sentencing the judge told the pair: "It was a prolific and ferocious attack by two fit young men on a man who couldn't defend himself.
"You inflicted considerable suffering before he died."
Det Ch Insp Dorian Lloyd said the success of the investigation was due to the "diligence of the investigation team and the considerable support we received from the community of Mountain Ash - particularly from the young people who live there".
"I would like to thank all of those residents of Mountain Ash who came forward with valuable witness statements which, combined with the overwhelming forensic evidence, resulted in the guilty pleas from both Smith and Shanahan," he said.
"Securing guilty pleas in a murder investigation is very unusual and it is as a result of the support and courage of many residents from Mountain Ash that we were able to achieve this result."
Senior District Crown Prosecutor for Cardiff and Merthyr, Catrin Evans, said: "This was a particularly brutal and senseless murder.
"The pain and suffering Richard Dyas had to endure in the course of his death is impossible to comprehend."
She said the community should be consoled that "these dangerous men will be off the streets for a very long time".