Cardiff teacher changed GCSE history course work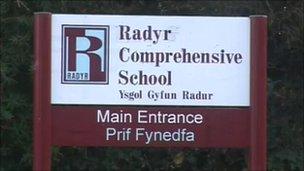 A history teacher has admitted tampering with GCSE course work handed in by pupils at a Cardiff school.
Keith Jones copied text from students at Radyr Comprehensive and attributed that work to other pupils who had not completed their own course work.
A professional conduct committee was told Mr Jones, who was dismissed by the school, was under immense pressure at home and work.
He has been suspended from teaching for a year.
The General Teaching Council for Wales committee heard the case dated back to February 2007.
Huw Roberts, presenting evidence on behalf of the GTCW, told the hearing that as well as tampering with the course work Mr Jones was also accused of removing and rearranging paragraphs to disguise the fact he had changed the text.
It was also claimed he awarded different marks for identical pieces in an attempt to avoid being detected by moderators.
He was dismissed from his position as a teacher at the school in May 2007, after being found guilty at a separate hearing of gross misconduct.
Mr Jones told the council committee how the school had a policy of making sure students achieved their predicted grades and that he was under pressure to deliver on this.
He said he had numerous deadlines to meet, including getting the students to hand in the course work for final moderation early, even though they were off school on study leave.
He said to compound the situation he was having to deal with "extreme stress" at home.
He had been planning a wedding for the following month but had been forced leave the home he shared with his fiance in Llanishen, Cardiff, and move back with his family to look after his mother - who had become seriously ill - and his seriously disabled sister.
His mother died a short time later.
Mr Jones described that period as being the "worst time of his life" and said he was "a physical and mental mess."
He admitted falsifying the course work of pupils in an attempt to relieve pressure.
But said he would not have submitted the work to the exam board because he planned to rectify the changes when the students returned to school.
The committee found him guilty of unacceptable professional conduct, described as "behaviour that falls short of the standard expected of a registered teacher" - which Mr Jones had denied.
They said his actions affected 25 GCSE history pupils.
The committee suspended him from teaching for a year.
When he re-registers as a teacher he will also have to undergo training in stress management and in assessing pupils before he can teach again.
Related Internet Links
The BBC is not responsible for the content of external sites.