£30m regenerations in Merthyr and Newbridge unveiled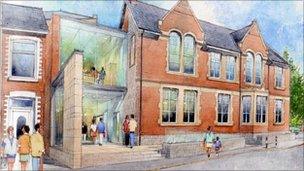 A £26.7m regeneration scheme for Merthyr Tydfil and nearby villages has been approved.
The River Taff corridor will be redeveloped, a new public space created and there will be improved access to the rail station.
Bedlinog, Treharris and Trelewis will also benefit from initiatives made possible with funding from Europe and the assembly government.
A regeneration of Newbridge, Caerphilly county, has also been announced.
The regeneration was unveiled by Business and Budget Minister Jane Hutt, Deputy Minister for Housing and Regeneration Jocelyn Davies, and Merthyr council leader Jeff Edwards.
Ms Davies said: "Improving the environment in which people live and work will increase the economic potential of the area, attracting investment and stimulating employment opportunities.
It would also "build community pride," she said.
The regeneration work is due to begin this year and be completed by 2015.
Mr Edwards said there would be many new developments over the next few years which will improve the area for people of all ages and and "ensure a brighter future for the next generation."
Meanwhile, a masterplan for Newbridge will act as the framework for developing the town and includes ideas put forward by residents who want to see the streets cleaned up and better public transport services.
Councillor Ron Davies said: "We have consulted the community and the feedback has been very positive, so I would like to thank everyone who is helping to shape the future of their town."
Caerphilly Council has already secured £3.7m in EU funding and grants from the assembly government for various projects in Newbridge, including the "Calzaghe Bridge".
The remainder is to be spent on "public realm works".
In July, the former art deco memorial hall, known as the Memo, was awarded £2.9m in Lottery money and the council wants it to become the cultural hub for the town.
A further £100,000 has been earmarked from the council's urban renewal budget to continue the improvements.
"We are keen to promote Newbridge as an attractive investment opportunity for the private sector," said Mr Davies, the cabinet member for regeneration.
"These plans will help position the town centre as a major commercial hub ideally located in the heart of the South Wales valleys."
The Newbridge Town Centre Action Plan 2010, was approved by the council's cabinet on Tuesday.
It is due to go before the full council soon to be formally adopted.
Related Internet Links
The BBC is not responsible for the content of external sites.