Newport reserve creates mice 'homes' from tennis balls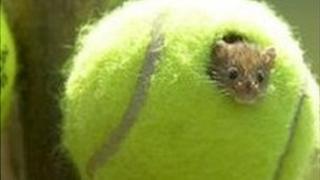 When it comes to a new des res, they're sure to be all the rage at a Newport nature reserve.
For the discerning harvest mouse is, apparently, choosey when it comes to finding a new home.
So volunteers have been creating high rise homes among reed beds - in tennis balls mounted on sticks.
"We can't wait to discover if the experiment has been successful," said Kevin Dupe, manager at Newport Wetlands national nature reserve.
Nature lovers donated dozens of balls after the RSPB and the Countryside Council for Wales (CCW) put out the call earlier this summer.
Tennis ball homes have become a tried and tested method of helping the mammals, which have declined in the last 30 years, partly blamed on the changes in farming.
They're being used for the first time at the reserve which is run by the CCW and it is hoped that the new tennis ball accommodation could help numbers increase.
Staff will find out in the autumn if the new homes have become occupied once the breeding season has come to an end.
Mr Dupe said: "We want to say a huge thank you to all the people who sent in balls, we had no idea we would get so many."
Children from the reserve's Wildlife Explorer Group create small entrance holes and stuff them with hay, with each one being sprinkled with birdseed.