Cardiff City fans welcome Millwall travel decision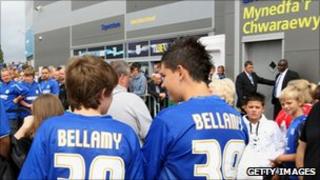 Cardiff City supporters have backed a decision not to impose travel restrictions on Millwall fans as part of a new police approach to such games.
South Wales Police said it was making "strides towards normality" in relation to transporting visiting supporters.
More than 1,000 Millwall fans are expected for the Championship match at Cardiff City Stadium on Saturday.
The fixture has seen trouble previously but the whole of last season saw just seven home arrests at the stadium.
Cardiff and Millwall fans clashed at Ninian Park on the opening day of the 1999-2000 season.
Fourteen people received minor injuries in the disturbances at the ground and in the city centre.
But a decade on, with Cardiff City experiencing very few crowd problems at its new stadium, South Wales Police said it was working to ease restrictions on travelling supporters.
Some high-profile games, such as when Cardiff and Swansea City meet, see visiting supporters transported straight in and out of the ground on official coaches - known as a "bubble" trip.
Divisional commander for Cardiff Ch Supt Bob Tooby said: "Following discussions with Cardiff City and Millwall Football Club it has been decided that there will be no travel restriction for away fans wishing to attend the game on Saturday, 25 September.
"We continue to work closely with Cardiff City and make strides towards normality in relation to issues such as kick-off times and transporting supporters to games.
"Latest figures show there were just seven home arrests at league matches at the Cardiff City Stadium last season proving the ground is both a safe and a family-friendly environment in which to watch football."
The police decision has been welcomed by Cardiff and Millwall supporters' groups.
Public disorder
Vince Alm, Cardiff City Supporters' Club spokesperson, said: "It's an early kick-off [1200 BST], so I have no concerns whatsoever, especially at Cardiff City Stadium which is very well policed.
"Hooliganism is a thing of the past. Most arrests these days are for public disorder, such as drunk people trying to get into grounds.
"Millwall have laid on £10-per-person coaches and the vast majority of their fans are coming on organised travel through the club."
He said Millwall's reputation as a problem club was a thing of the past, and the only games Mr Alm worried about now were derby clashes against Swansea.
He added that a percentage of Cardiff's home games were now "police-free".
A spokesman for Millwall Supporters' Club said "common sense had prevailed".
He added: "Cardiff have played their part in allowing us to travel the way we wanted to travel, and our club has acted responsibly in providing us with cheap travel."
A spokesman for Cardiff City said the club and South Wales Police held talks to agree a "common strategy" for all fixtures.
He added: "Thereafter representations were made to Millwall FC and initial considerations were to include some control measures for this fixture.
"However, Millwall remained firm in their position that they were not necessary for fixtures at Cardiff City Stadium or the New Den this season.
"Cardiff City and South Wales Police then revisited their tactical options and, as a result, travel control measures were lifted though an early kick-off remained."