Anti-human trafficking post criticised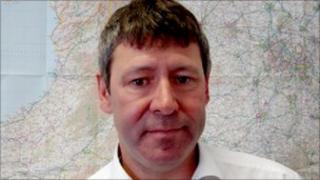 The head of a sexual health charity has criticised a Welsh Assembly Government decision to appoint an anti-human trafficking officer.
Pete Clark of Terence Higgins Trust Cymru said the money would be better spent helping existing sex workers.
It comes as a senior police officer rejected suggestions that sex trafficking was on the rise in Wales.
The assembly government defended the decision, and said the post would uncover the true scale of trafficking.
At least 2,600 women are working as prostitutes in Wales and England after having been trafficked from abroad, research for the police suggests.
The new post was announced on 9 September by Social Justice Minister Carl Sargeant in response to a cross-party assembly report which found Wales' 22 local authorities put the number of "proven" or "suspected" cases of human trafficking at 15 in the past year.
However, the group's chair, Joyce Watson, said more women and children were being enslaved in the industry than official figures suggested and the number could surge around the Ryder Cup at Celtic Manor, Newport in early October.
Mid and West Wales AM Ms Watson felt there was a danger of people ignoring the real issue - that of the involvement of minors in the sex trade.
She said: "All those identified in our report as being subject to human trafficking are children.
"Although we approached 22 local authorities, I know these are not the true figures. One of the authorities who did not respond in time told me it had 19 cases alone and another told me they had regular incidents involving children and trafficking, either for sex or forced labour.
'Wild guess-timates'
"I'm delighted Mr Sargeant agreed to appoint the co-ordinator. I'm hoping the post will pull all the different agencies together so that people feel more empowered to report suspected incidents of trafficking.
"Trafficking is a modern-day slavery which is happening near us now, and not just in our big cities."
Disagreeing, Mr Clark told BBC Wales' Eye on Wales programme: "The figures have been thrown about, wild 'guess-timates' of the number of women who are trafficked into sex work, but there's very little evidence to support this either in England or Wales.
"What we do know is there's a considerable number of economic migrants, young women who have come from other areas of the world to sell sex in Wales because they can earn 10 times what they can from selling sex in their own country.
"There's a massive difference between somebody being trafficked and somebody making an economic choice to move to a different country."
He said he would be watching how the new assembly post evolved with interest, but the money could have been put to better use.
"I think that money would be much better spent addressing the issue of sex workers and ensuring the safety of sex workers regardless of whether they are working on streets, in brothels or from private apartments," he said.
Forced labour
"We seem to be spending an awful lot of time, money and effort looking for another population on top of these when those people who are already visible do not have the services they need."
Assistant chief constable Jeff Farrar of Gwent Police, who leads on protecting vulnerable people and human trafficking for the Association of Chief Police Officers Cymru, welcomed the new post.
He said the report had enabled an improvement in intelligence gathering on the trafficking situation by the police, the voluntary sector and government agencies.
Citing police figures which are separate from those the assembly gathered from local authorities, he said: "There is not much evidence of human trafficking, but forced labour is occurring.
"In the past 12 months we have had 22 referrals through the national referral mechanism from across the whole of Wales.
"Of those we have sent through, nine have been male and 13 women, 13 adult and nine children."
Knowledge and expertise
Of the children referred, seven were exploited through labour, one was sexual exploitation and one was unknown exploitation.
Mr Farrar said he accepted trying to get somebody who was being sexually exploited to report it to the police was very difficult and the true picture may be greater.
But he said the new assembly post could only assist in achieving a truer picture of the current trafficking situation.
A Welsh Assembly Government spokesperson said the post would help uncover more victims of trafficking.
"The post, which will sit with the Gwent Police force, will bring together the knowledge and expertise of relevant authorities such as the police, social services and the UK Border Agency, the Children's Commissioner for Wales and voluntary organisations," said the spokesperson.
"The post holder will be responsible for developing community specific strategies which reflect an area's landscape - rural, urban, linguistic and cultural, and raise awareness of local people so more traffickers and victims could be uncovered.
"The post holder will also ensure that Wales gathers evidence to show what services are required and where in the country they should be targeted."
Eye on Wales is on BBC Radio Wales at 1300 BST on Sunday, 26 September.