Fire crews battle blaze at derelict flats in Penarth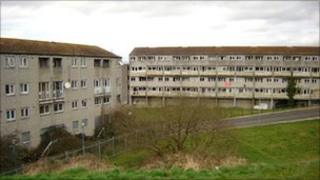 Firefighters have been tackling a blaze at a block of derelict flats in the Vale of Glamorgan.
Emergency crews were first alerted to the fire at a four-storey building at the housing estate known locally as the Billybanks in Penarth at 1800 BST on Wednesday.
Initially 35 fire officers were called, but South Wales Fire Service were damping down on Thursday morning.
Nobody is believed to have been hurt as the building was derelict.
Penarth Heights, the estate's formal name, was recently ranked Wales' ugliest eyesore and is in line for a major redevelopment.
Construction of 377 houses and apartments starts next month, with completion due by 2017.
The rundown homes which have views towards Cardiff Bay, will be demolished after a deal between Vale of Glamorgan council and developer Crest Nicholson.
The site had remained derelict for years and had become a target for vandals and squatters.