World record for Tubby, recycling Labrador from Torfaen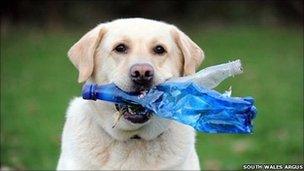 A Labrador who picks up discarded plastic bottles in his mouth and crushes them has made it in the 2011 Guinness World Records book.
Tubby has helped his owner Sandra Gilmore, from Pontnewydd, Torfaen, recycle an estimated 26,000 plastic bottles over the past six years.
Guinness World Records has put him in under "Most bottles recycled by a dog".
"It's quite an achievement," said editor-in-chief Craig Glenday of the book's only new Welsh entry.
Owner Mrs Gilmore said she first discovered Tubby's talent when she took him out for walks.
"Normally when you take a dog for a walk it's a ball or a stick. But we used to leave Tubby in the woods and he would come out with plastic bottles - full ones, empty ones, dirty ones, any sort.
"He crushes them and he likes taking the top off them.
"He loves his recycling. Unless he goes out and finds a bottle he comes home moping."
Ms Gilmore said she was "proud" of Tubby's achievement and thinks even he may be aware of his what he has accomplished.
She said: "I think he may be aware as when he's having his photo taken he gets really excited. It's a marvellous achievement.
And now Tubby's fame is leading to him being booked for personal appearances- with a litter roadshow for children during the half-term break already in his schedule.
Mr Glenday said his organisation received thousands of world record claims every week from the public but it had learned of Tubby's efforts itself.
"We have a team that scours the newspapers and the internet for possible entrants and that's how we found the story about Tubby," he said.
"We thought it was great and got in touch with Sandra because it's such a good message with regard to recycling.
"It's an inspiring story for children and adults alike."
Mr Glenday said that while all world records were by nature unique, he was especially surprised by Tubby's.
"We'd never have thought about this as a category, so to have it ratified is a bit of fun," he said.
His proud owner added Tubby was in for a special treat following his world record.
Mrs Gilmore said: "I'm making him a bone; he does prefer a plastic bottle though."
Related Internet Links
The BBC is not responsible for the content of external sites.