Spending review wait for St Athan defence academy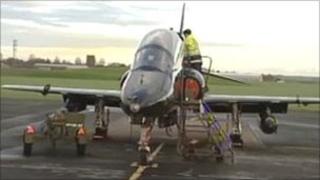 Welsh Secretary Cheryl Gillan says she cannot confirm if a £14bn defence training academy will be built until defence and general spending reviews.
As submissions close on the Strategic Defence and Security Review (SDSR), Welsh MPs are pushing for plans at St Athan, Vale of Glamorgan, to proceed.
But some commentators say the project could be under threat.
Mrs Gillan said she was committed to the proposals but could not say if they will go ahead before the reviews.
Mrs Gillan met Defence Secretary Liam Fox on Wednesday to discuss the training academy and other defence projects.
Asked whether the project would go ahead, she said: "I cannot possibly say that.
"We have not had the strategic defence and security review outcome.
"We have not had the comprehensive spending review outcome, but I remain committed to our military activity and the programmes that were put forward for St Athan and continue to do so."
Armed Forces Minister Nick Harvey said: "As a result of the unfunded and incoherent defence programme left over from the previous government, we are reviewing projects across defence, and as the defence secretary has made clear tough choices will need to be made.
"As decisions are made they will be announced to the House in the typical way, but we are not going to comment on speculation."
The St Athan plan would centralise training for the armed forces in one location, but has led to controversy due to the closure of other bases in the UK.
Alun Cairns, Conservative MP for the Vale of Glamorgan, said that during lobbying so far too much attention had been paid to the economic benefits to Wales.
Mr Cairns said the campaign to bring defence training to Wales should also be pursued on military grounds.
'Growing concern'
He, with Rhondda Labour MP Chris Bryant and Welsh Secretary Cheryl Gillan, had been due to meet Mr Harvey to push for the programme to be approved, but that was postponed for two weeks.
Mr Bryant has written to Mrs Gillan complaining about cancelled meetings. But the Wales Office responded that one meeting had been cancelled by Mr Bryant because it said he was campaigning in a by-election.
He wrote: "St Athan is an issue of vital importance to Wales and ought to be at the top of your priority list as secretary of state.
"There is growing concern amongst Welsh MPs across parties that decision-making around the project is in limbo, and in danger of being dragged into messy discussions between the Treasury and MoD, when in fact, proper modern high-tech training of our troops is a necessity and should be separate from the wider strategic defence review."
Mr Cairns said he remained optimistic for the St Athan project.
"Until now, there has been much focus on the economic benefits to the Vale of Glamorgan and to Wales but if we are to succeed, it has to be won because it is the best military thing to do," he said.
He said government finances meant it needed to see "value for money".
'World-class training'
"I believe that not only will this project provide the world-class training our forces need and deserve but by bringing together the training of all three services, it could also could save the taxpayer £500m over 30 years," added Mr Cairns.
Sunday Times defence correspondent Michael Smith said he remained sceptical about the future of the defence academy.
Meanwhile, the Commons defence committee has said the SDSR was being pushed through so quickly mistakes were bound to be made.
It has warned that planned spending cuts for defence were so deep they could jeopardise the armed forces' ability to maintain current military operations.
The SDSR is being carried out alongside the UK government's overall comprehensive spending review, which is due to report next month.
Questioned in the Commons on Monday, Dr Fox was challenged to support the training academy by Cardiff West Labour MP Kevin Brennan.
"The whole of the defence training review and its consequences, including St Athan, will be looked at as part of the wider SDR," said Dr Fox.