Flood delays start to term at St Cyres school, Penarth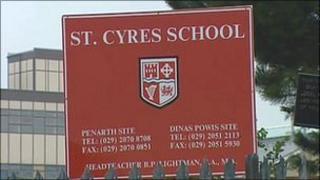 Flooding problems have delayed the start of term for 1,000 secondary school pupils in the Vale of Glamorgan.
Students at the Penarth site of St Cyres Comprehensive School were due to resume their studies on 7 September.
But head teacher Dr Jonathan Hicks has now issued a letter saying he is "unsure" when years 7-10 will be able to return, due to safety concerns.
Homework is being set via the internet, while those in years 11-13 are being taught in a different block.
The flooding was caused by heavy rain on 7 September and means 1,100 pupils who normally take lessons in Penarth cannot access the building.
Those in crucial exam years are being educated in an unaffected annexe in Dinas Powys, which is usually attended by 400 pupils, in years 7 to 9.
In a letter to parents sent home via senior pupils and posted on the school's website, Dr Hicks wrote: "Because of the water damage I was advised not to open any part of the Penarth site until it was safe to do so.
"I am uncertain as to when our new block will be operational.
"Even when power is restored, we will need to initiate new fire procedures and brief the pupils fully on their return to school on evacuation in the event of a fire alarm."
He said the school and council officers were liaising constantly with construction teams.
He added: "We remain optimistic that we should be open to all pupils in the near future."
Updates will be posted on the school's Parentmail site every day.
Parents are also asked to check the council's website regularly for updates or call its contact centre, Contact OneVale, on 01446 700111.