Cardiff chef ready to cook £15,000 curry for charity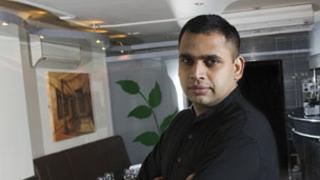 An Indian restaurant chef is facing what he describes as "the most challenging meal I've ever cooked" with a price tag of £15,000.
An anonymous donor bid that much for him to cook for 10 guests at his home.
Anand George, of the Mint and Mustard in Cardiff, was at a charity auction in aid of Ty Hafan children's hospice in the Vale of Glamorgan.
He said he was "truly honoured and humbled that someone thought so much of my food".
Ten chefs from across south Wales were asked to prepare their signature dishes for a gala dinner, including Mr George, who moved to Wales in 2005 after training in the southern Indian cuisine of kerala.
Guests then had the opportunity to bid for the chef of their choice to come to their home and cook for a private dinner party.
"The first few chefs went for £4,000 and £5,000, and a lady had told me that she was going to bid £3,000 for me, so I was just relieved that I wasn't going to be embarrassed," he said.
"I couldn't believe it when the bidding kept going up and up, and I almost fainted by the time it reached £15,000".
Mr George, who has worked at some of Mumbai's most prestigious five star hotels, has to work out how he's going to replicate his Tiffin Cup-winning food in a domestic kitchen.
"I think it will be the most challenging meal I've ever cooked in my life.
Pan-fried seabass
"I have all these ideas about what I'd like to create, then I have to remind myself that I've probably only got four rings, one oven and one grill to work with.
"I think I might be allowed to take someone from the restaurant along to help me, but even so, it's the most frightening thing I've ever done.
"Cooking for 10 people in a household kitchen may seem like a big deal to me, but it's nothing compared to the challenges the kids at Ty Hafan have to face.
"I'll do it, and make it the best meal I've ever cooked, because I'm not just cooking for the gentleman who bid for me, I'm cooking for all the children who need the money so badly.
"After it's all done, I'd love to visit Ty Hafan, and see what we've helped to achieve, but it's not really down to me, it's all thanks to my mystery man's generosity".
Mr George is hoping that his benefactor asks for his signature dish, and his favourite to cook: pan-fried seabass, in a mango, ginger and coconut sauce.
He is prepared to make anything they ask for, though the dish which would give him the most sleepless nights would be a roasted loin of pork.