English test for Cardiff taxi drivers 'open to abuse'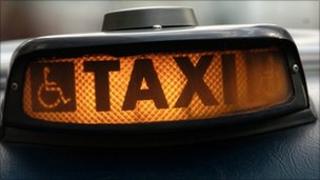 A plan to ensure Cardiff taxi drivers have good English skills could be exploited by some passengers, the head of a drivers' association has said.
Cardiff Council could force drivers to do an English exam if passengers make a complaint about their language ability.
Mathab Khan, head of Cardiff Hackney Association, said drivers were already subject to rigorous tests.
He said: "A lot of drivers get abused racially by drunk people. A complaint could be made maliciously."
Mr Khan said taxi drivers in Cardiff were already among the most tested in the UK.
He said hackney carriage and private hire drivers had to undergo six separate checks and tests before they could get a license.
One of those is a BTEC examination, brought in at the start of 2010, which tests new drivers' navigation and map reading skills.
Councillor Ed Bridges, chair of Cardiff council's public protection committee, said: "The authority is concerned that the standard of English of a small minority of licensed drivers does not enable them to provide the service to the high standards expected by the public."
He added: "While the requirement for new applicants to undertake the taxi driver BTEC course will ensure the all new drivers have the necessary understanding this does not address the problem of existing drivers."
Mr Khan said drivers suffered a lot with "some passengers - those that are drunk or are abusive".
"All it will take is one phone call to licensing and they will be called up to have their English checked," he added.
Drivers would suffer loss of earnings even if a complaint was groundless, he said.
"Once a call is made the driver will be subjected for a recorded interview like a police interrogation.
"The driver will lose money having to take off work to prepare for the interview and do the interview."
Under the proposals, a driver would go before the council committee if the first interviewers believed there was an issue with language.
'Completely arbitrary'
Mr Khan explained that if the committee felt the drivers lacked the necessary skills, the driver could have to pay up to£500 to sit a course in Skills for Life at entry level three standard.
"They have already been given a license so they are right and proper to drive a taxi. It's not right. This is absolutely wrong and completely arbitrary."
Mr Khan said the association was taking legal advice.
He added: "Often a regional dialect can be difficult to understand. That doesn't mean the driver doesn't understand English.
"The drivers are not Oxford University graduates. They are ordinary people trying to make a living."