Ryder Cup hospitality warning before Newport event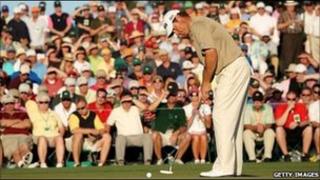 Ryder Cup organisers are warning golf fans of the dangers of being misled by unofficial corporate hospitality packages.
Some visitors could discover they do not have tickets and are staying miles from the Celtic Manor course in Newport during the event next month, they say.
"It's disappointing," said cup director Richard Hills. "People try to make a profit around the edge of the match."
One company selling unofficial packages has denied misleading customers.
Tournament organisers said unofficial hospitality was a problem they had come across at previous events, and they wanted fans to be vigilant in the final weeks before it begins on 1 October.
And as in previous events, ticket allocation is tightly controlled. Just four firms have been named as official hospitality providers for the event.
Individuals need photo ID and names are logged of all those in hospitality groups.
But the tournament's organisers have launched an attack on the unofficial packages which have sprung up.
"As you can see a lot of work is going into providing facilities for official hospitality programmes," said Mr Hills.
"This mushroom that has popped up of these unofficial packages does not help the match."
Unofficial
Organisers have launched a specific attack on one company, THG Sports, after two major customers contacted them.
The customers said they thought they had booked with an official operator but instead were on a THG unofficial package, staying five miles from the Celtic Manor, where tickets may not have been available.
The THG website contains no mention of tickets, and there is also a disclaimer stating that the company is independent of the event.
In a statement THG said it had not sold, or would sell, tickets to the Ryder Cup.
The company has sold hospitality packages that include accommodation near the event but it is made very clear to customers that they have to source tickets to the golf tournament themselves.