Historic Book of Aneirin could move to National Library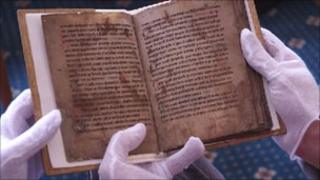 A book containing one of the oldest Welsh poems ever written could be on the move.
The Llyfr Aneirin (Book of Aneirin) dates from 1265 and is currently on display at Cardiff's central library.
But in order to preserve the ancient manuscript long-term, plans in place to hand it over to the National Library in Aberystwyth.
The final decision rests with Cardiff council who will take a vote on 9 September.
The historic book famously contains a long poem called 'Y Gododdin', attributed to Aneirin and probably recited before being immortalised in writing.
The verse honours the heroic deeds of the Gododdin tribe who fell in a battle at Catraeth (Catterick, Yorkshire), in about the year 600.
Because of the age and condition of the national treasure, it is not deemed suitable for display at Cardiff.
Long-term survival
If moved to the National Library it will be overseen by experts who will be able to supervise its preservation and safeguard its long-term survival.
Councillor Nigel Howells, member for sport, culture and leisure said: "The council has a duty under the 1972 Local Government Act to make proper arrangements for any documents in its care.
"I think the time is now right for it to be housed in the National Library of Wales which most experts consider to be its natural home.
"It will still belong to Cardiff, and we will be able to welcome it back for special events and exhibitions, but it needs to looked after by experts in an establishment that offers the best option for its long-term future."
Llyfr Aneirin will still technically be owned by Cardiff council, and Cardiff's libraries will receive two full facsimile copies to display locally.