New deadline for opinions on Cardiff incinerator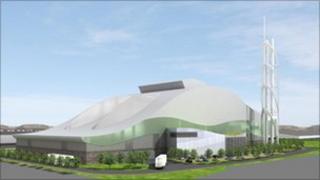 The deadline has been extended for people to give their views about the granting of an environmental permit for a £150m waste incinerator.
Environment Agency Wales has initially backed plans for the plant in Splott, Cardiff.
It has extended its consultation deadline by 10 days following concerns that people would be unavailable to comment because of the school holidays.
The incinerator already has planning permission from Cardiff council.
Environment Agency Wales said in a statement: "We want to make sure everyone has the opportunity to comment so in response to concerns about people being unavailable to comment during the school summer holiday, we've extended the consultation deadline to September 10.
"This adds 10 days onto our previous deadline so that anyone who has missed the opportunity to tell us what they think has enough time to write to us."
Environment Agency Wales has said the permit relates to the "impact of the facility on the environment and on people's health".
It does not relate to issues such as traffic, visual impact, operating hours and light pollution, all of which were covered by the planning permission granted by Cardiff council.
'Healthier solutions'
Environment Agency Wales said after its draft decision to back the plans that it did not anticipate it would cause any significant risk to the health of people who lived nearby, or to the environment.
However, the plans from Viridor have met opposition from residents.
Campaigners say waste problems would be better solved by "more environmentally friendly and healthier solutions".
"What we need always - every month - is getting more people involved and getting more people actually distributing leaflets, getting on the street and organising a real mass movement," said Cardiff Against the Incinerator secretary Edmund Schluessel.
"This is a problem for the entire city, not just a few people or businesses."