Coal seam excavated for heritage in Caerphilly woodland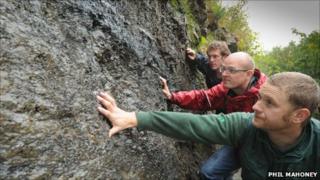 Geologists have excavated a section of a coal seam to give visitors an unusual glimpse of mining heritage.
A 9m-high basin was cut away on an embankment in the Wern Ddu woodlands near Caerphilly.
The British Institute for Geological Conservation (BIGC) said it reveals where a coal seam, known as Rhondda No. 2, rises close to the surface.
The seam is 300 million years old and named after the numerous outcrops of the same coal found in the Rhondda.
A path has been built to the exposed seam and a viewing area allows visitors to see the results.
Ben Evans of the BIGC said the excavations in the woodlands are part of a geo-heritage project in the south Wales coalfield.
'Heritage features'
"We first exposed this coal seam four years ago and once we had worked out its exact location and depth plans were drawn up for the best way to get people as close as possible to it," said Mr Evans.
It has three layers and lies beneath coarse-grained Pennant sandstone, which was used for building in the south Wales valleys.
Geologists say Wern Ddu was almost certainly mined in the 1920s and 1930s by the Black Vein Colliery and later by the Caerphilly Brick Company, when the site was worked by opencast methods for clay.
Woodland supervisor Andrew Hobbs, who is with Forestry Commission Wales, said: "Woodlands often contain interesting geological and industrial heritage features and therefore they can offer a stimulating outdoor learning environment."
The BIGC is now working with local community group Caerphilly Woodlands Trust and Caerphilly Council to develop a geological audio trail at the site.
A science learning pack for Foundation Phase and Key Stage 2 pupils in schools has also been produced.
The viewing area is a 10 minute walk from Coed Parc y Van carpark in Van Road, with an Ordnance Survey grid reference of ST 168 859.