Police seek owner of 1940s badges found in river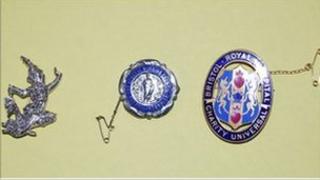 Police are trying to reunite 1940s nursing badges with their owner after they were among items found in a river.
A 'SRN' badge from 1948 and a Bristol Royal Hospital badge were inside an old leather case in a river in Llancarfan, in the Vale of Glamorgan.
Also in the bag were a jade double-stringed necklace, a string of pearls, two glass crystal necklaces and a silver brooch of an Eastern dancer.
Anyone who can help should contact Barry Police Station on 101.
The nursing badge from the Bristol Royal Hospital is dated 1944-1948 and the same name is engraved on the back of both badges.
Lost property officer Barbara Morris said: "These lovely pieces of jewellery were obviously of great sentimental value to their owner.
"We would like to hear from anyone who may recognise them so we can return them.
"Both nurse's badges bear the same name and we believe that whoever knows whose jewellery this is will be able to give us the correct name."
Anyone who can help is asked to contact Barbara Morris at Barry Police Station on 101.