YouTube hit celebrates Newport bridge reopening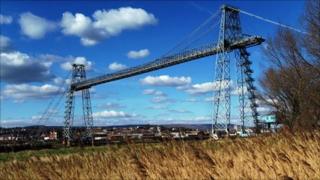 Newport's transporter bridge has reopened after a £1.2m restoration with a performance of a hit song about the city which has won acclaim on YouTube.
The bridge was closed in December 2007 because of safety concerns.
But work which started in January this year has now been completed in time for the Ryder Cup in Newport in October.
The reopening featured Alex Warren and Terema Wainwright playing Newport (Ymerodraeth State Of Mind), their take on Jay-Z's New York State of Mind.
The transporter bridge features in the song and video, which has had more than 1.8m views on YouTube since it was posted on 20 July.
Some 300 people turned up for the ceremony and to see the pair perform their song which affectionately name checks many of the sights and sounds of Newport.
Anne Gatehouse, of the Friends of Newport Transporter Bridge, said she was "over the moon" that the landmark had reopened.
"It's the icon of Newport - most people in Newport love it," she said.
"It's just such a big part of our heritage. There's only eight [transporter bridges] in the world and we've got the only one in Wales."
Around £180,000 was spent on refurbishing the bridge ahead of its centenary in 2006.
Newport council said the latest work involved "replacing all the high-level rails which support the travelling gondola, and painting the high level boom and both towers".
The assembly government gave £800,000 towards the project, with £350,000 from the council and £75,000 from heritage body Cadw.
The council said the restored bridge would be one of the legacies of the Ryder Cup because the work was part of the city's "enhancement programme".
Ms Gatehouse added: "We hope that people who come for the Ryder Cup will come to visit it."
The opening ceremony also included performances from Newport Male Voice Choir and Côr Casnewydd, the Newport community children's choir.
Members of Friends of Newport Transporter Bridge group are opening a visitor centre offering tours and souvenirs.