Cardiff Airport 'keen' to build on Flybe expansion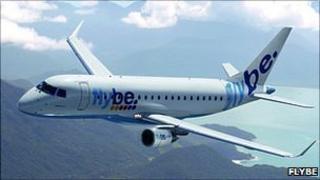 New routes out of Cardiff Airport could be on the agenda after the Flybe airline announced it would was investing in more planes.
The carrier already flies to 11 destinations from Cardiff, including Paris, Belfast and Edinburgh.
Flybe is buying up to 140 planes, and destinations such as Dusseldorf, Lyon and Frankfurt could be availabe as it looks to focus on the business market.
Cardiff Airport said they were "keen" to examine the options with Flybe.
The company, which is Europe's largest regional airline, is looking to buy Embraer 175 and E-family aircraft, and has so far made a firm order for 35 planes as it looks to expand across its British and European operations, including from Cardiff.
The selected planes carry 88 passengers in a 2x2 seat layout, which Flybe said was its customers' preference.
The first aircraft will be delivered by September 2011.
'Business model'
Jim French CBE, Flybe chairman and chief executive, said: "Flybe is delighted to announce this significant $1.3bn (£850m) order of 35 Embraer 175 aircraft.
"In doing so, we are securing an aircraft that fits with our stated aim of furthering our position as the leading regional airline in Europe."
Steve Hodgetts, Cardiff Airport's business development and commercial director, said: "In light of the recent announcement by Flybe we're keen to examine the possibility of expanding the operation from Cardiff Airport to offer more routes and frequency to Welsh travellers.
"There is great demand for services to important business and popular leisure destinations in European countries including Germany and France, and Flybe would be ideal partners to work with.
"We would welcome any discussions with Flybe about how expanding the airline's operation could benefit Cardiff Airport and Wales as a whole."