Ebbw Vale to Newport rail decision 'in 2011'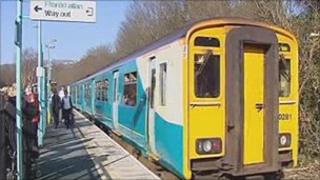 No decision on whether an Ebbw Vale to Newport rail line will go ahead will come before next year, the assembly government has confirmed.
Transport Minister Ieuan Wyn Jones is waiting on a feasiblity study from Network Rail into its economic and logistical viability.
The findings are not expected before March 2011.
Meanwhile, an extra £21m in European funding is going to a scheme to help improve railway stations across Wales.
Dozens of stations could benefit from improvements such as new waiting facilities and better security under the Wales Enhanced Station Improvement Plans.
The funding from the Convergence European Regional Development Fund will go towards improving access and security at stations across Wales.
"We know modern stations are important to passengers in Wales and we want to achieve even more successes for them," said Chris Rayner, route director at Network Rail.
The National Transport Plan published by the assembly government in March committed to examining the viability of an Ebbw Vale to Newport line.
A spokesman for the Welsh Assembly Government said: "We are carrying out the detailed work on the options and a feasibility study has been commissioned from Network Rail and will be completed by early next year."
Network Rail said the feasibilty study was a "vital stage to help identify the different technical options available and to help determine the business case".
A spokeswoman said: "This also means that we are challenging ourselves to look for the most viable and cost-effective solution, which has high value for money.
"This study will assist the Welsh [assembly] government to make an informed decision on the next steps for the scheme to progress."
Existing services
The Welsh Assembly Government is spending £2.6m to install a connection at Gaer Junction, which would pave the way for a line between Ebbw Vale and both Newport and Cardiff once completed.
The line between Cardiff and Ebbw Vale reopened in February 2008 after a gap of 46 years.
However, Mr Jones has indicated that a line between Ebbw Vale and Newport could only be opened if some existing services to Cardiff were ended.
"Because of the success of the Cardiff service, we could not really take away a service that exceeded all our expectations," he told the South Wales Argus newspaper.
The rail link between Ebbw Vale and Newport ended in 1962 when sweeping cuts were made to Britain's rail infrastructure.
Talk of re-establishing the line has continued for the last 10 years.
On the European funding for station improvements, Mr Jones said: "Upgrading our major transport hubs as well as smaller stations across the region will increase inward investment, employment opportunities and visitors who will arrive at their destinations through attractive gateways."
The money will be spent on new waiting facilities, park and ride schemes, better access, security and customer information on platforms.