Legal challenge over Newport city revamp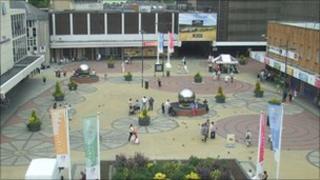 Plans to redevelop Newport city centre are being delayed by a legal challenge by a retailer, says the city's council.
A £200m scheme to build a new shopping centre, Friars Walk, in the John Frost Square area was scrapped last year after the developers pulled out.
The council said it was being held up by frozen food retailer Iceland.
Iceland wants a judicial review on the council's plan to re-use its original compulsory purchase order. The firm said it wants the matter resolved.
The council began compulsory purchase proceedings for properties in the square, including one owned by Iceland, four years ago.
Iceland objected at the time but, after a public inquiry, an independent inspector backed the council's position.
However in March this year, just days before before the completion date of the compulsory purchase order, Iceland applied for a judicial review on the matter.
The company lodged its application in London, where last week a judge decided the case should be heard in Cardiff because of the significance of the issue to the people of Newport.
The council, which had agreed a process for re-tendering the shopping centre scheme to a new developer, has now learned that the hearing to see if a review will be held will not take place before 10 August.
'Unwelcome change'
"We are extremely disappointed and angered that lodging the application in London has led to this long delay," said council leader Matthew Evans.
"We had hoped to have a developer on board by the end of the year but unfortunately the legal action is causing an unwelcome change to this timescale.
"We will be strenuously defending our position which we believe is in the best interests of the city and its residents."
A spokesman for Iceland said: "We can confirm that the hearing of the challenge has been transferred from London to Cardiff.
"This was at Newport County Council's request.
"We hope that the matter is resolved quickly."