Welsh Health Minister Eluned Morgan apologises to Senedd for driving ban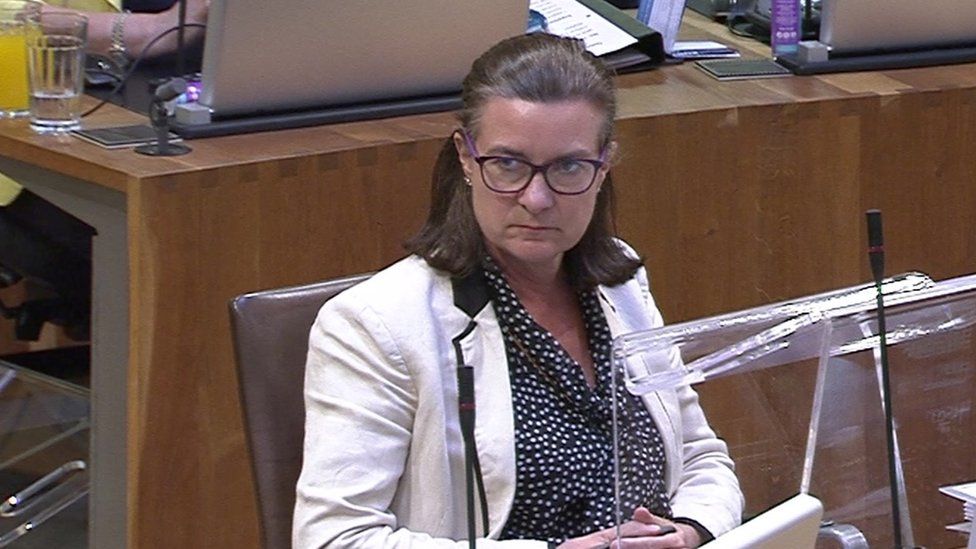 Wales' health minister has apologised for embarrassing the Senedd when she was banned from driving for repeatedly speeding.
Eluned Morgan became the first minister to be formally reprimanded by the Welsh Parliament, on Wednesday afternoon.
In a statement in the Senedd chamber the Labour politician expressed "sincere remorse and deep regret" for her actions.
The conviction at Mold Magistrates Court was triggered after she was caught exceeding 30mph on the A525 in June of 2021.
It followed three other speeding offences in September 2019, June 2020 and April 2021.
Politicians on the Senedd standards committee recommended a formal reprimand after finding Ms Morgan had broken the code of conduct.
It followed an investigation by Standards Commissioner Douglas Bain who found the minister showed "a disregard for the law and a failure to take action to avoid repetition of unlawful conduct".
Since the court case she has apologised to the first minister, who said she did not uphold the high standards expected but took no further action.
"I apologise unreservedly and wholeheartedly to you, my fellow Senedd members and to the people of Wales for the embarrassing position I put myself and this respected institution in," the Mid and West Wales MS told the Welsh Parliament.
"I want to say sorry to anyone who has been affected by my actions."
She accepted that she had failed to "uphold the highest standards".
The Senedd passed a censure motion - a formal reprimand - without a vote following Ms Morgan's statement, meaning it was passed unanimously.
The motion registers the Senedd's disapproval of a member's actions, but is not as serious as a ban from the chamber which would have seen Ms Morgan's salary stripped for a period of time.
Conservatives have accused the Welsh Labour government, which has been critical of the UK government over Partygate, of "hypocrisy" over the issue.
First Minister Mark Drakeford had called for Prime Minister Boris Johnson to resign after he received a fixed penalty notice for a Covid rule breach, saying: "You can't be a law maker and a law-breaker at the same time."
Mr Drakeford said there was no "moral equivalence" between the two cases.
"She didn't make the law that she has broken. She admitted it, immediately. She has been dealt with by the courts," he told BBC Wales in April.