Rail strikes: Drakeford claims staff moved from Wales to England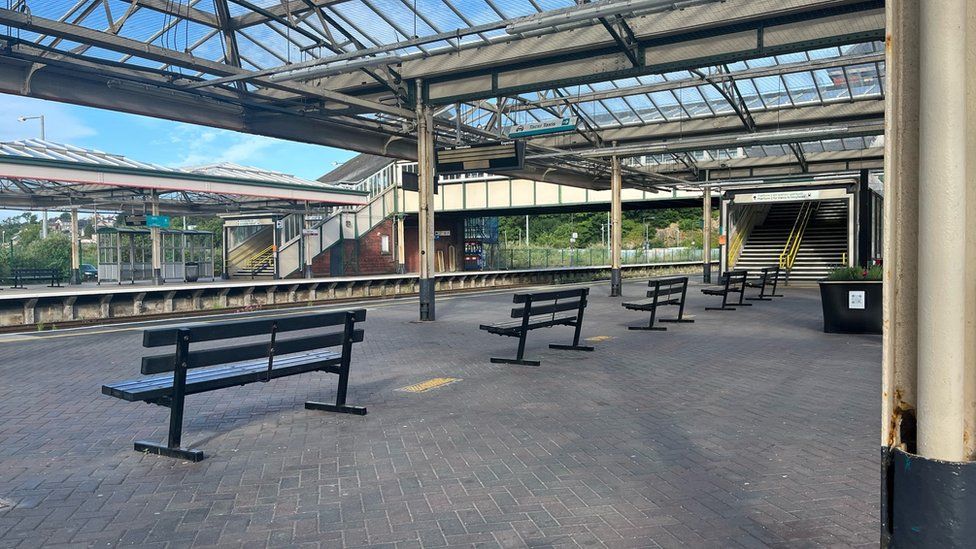 The Welsh government has stood by comments made by the first minister that Network Rail "removed" staff from Wales to help services in England.
The group denied on Tuesday evening it had redeployed staff in such a way.
Conservative Senedd leader Andrew RT Davies accused Mr Drakeford of getting his facts wrong.
But the Welsh government said Network Rail had prioritised deploying some "contingent signallers" to keep lines running across the border.
In a heated session of First Minister's Questions on Tuesday which focused on the rail strike, Mr Drakeford said: "Network Rail have removed some of the staff, who could have been available to make trains run in Wales, in order to keep trains running in England."
He asked if Mr Davies "supports that measure, which was a decision of his government, to deny people in Wales the opportunity to travel - where there is no dispute - by removing those workers to look after what clearly is for them a higher priority than Welsh citizens will ever be".
Although Transport for Wales (TfW) itself was not in dispute with the RMT union, because workers from train operators and Network Rail went on strike most Welsh train services were still unable to operate.
The next strike is due on Thursday.
Following the comments, a spokesman for Network Rail Wales and Borders said: "No Network Rail staff have been redeployed from Wales to England during this industrial action.
"We're continuing to work with our partners at Transport for Wales and other train operators to keep passengers moving where we can."
TfW is wholly owned by the Welsh government.
In a letter to Mr Drakeford, the Senedd Tory leader said: "Please can you explain what information you based your answer on or can you confirm that you will be writing to the Llywydd [presiding officer] to correct your mistake.
"In this instance first minister, I believe that a correction is fully warranted".
He said the comment was "inaccurate" and was "used to justify some divisive, unjust language".
Conservative Welsh Secretary Simon Hart told the Welsh Affairs Select Committee in the Commons on Wednesday: "There has been some frustration, I think, over some comments about whether rail workers in Wales had been redeployed to England which has subsequently been clarified.
"I hope the first minister will also be clarifying his comments yesterday on that."
Despite the criticism the Welsh government stood by Mr Drakeford's comments.
A spokesman said: "Network Rail have prioritised deploying their contingent signallers, some of whom normally work in Wales, to keep lines in England running as part of their revised route strategy to deal with the dispute."
Network Rail has not responded to the latest claim by Welsh government, however BBC Wales has been told the organisation stands by its original denial.
It comes after Mr Drakeford corrected the Senedd's record after he referred to a "food poverty round table" - called to discuss rising food costs - as a "food summit".
Mr Davies has been calling for a food summit of farmers and retailers to discuss the pressure on producers following the war in Ukraine.
Mr Drakeford told Mr Davies: "My answer was intended to demonstrate that Ministerial-level attention had been paid to food issues in the previous week, involving external stakeholders."
He said the case for correcting the record was "marginal" but he said he would do so.
"I do [not] intend to make a habit of issuing corrections when the primary meaning of my answer is unaffected by issues of terminology," he wrote.