Ukraine war: Fears over lack of homes for refugees in Wales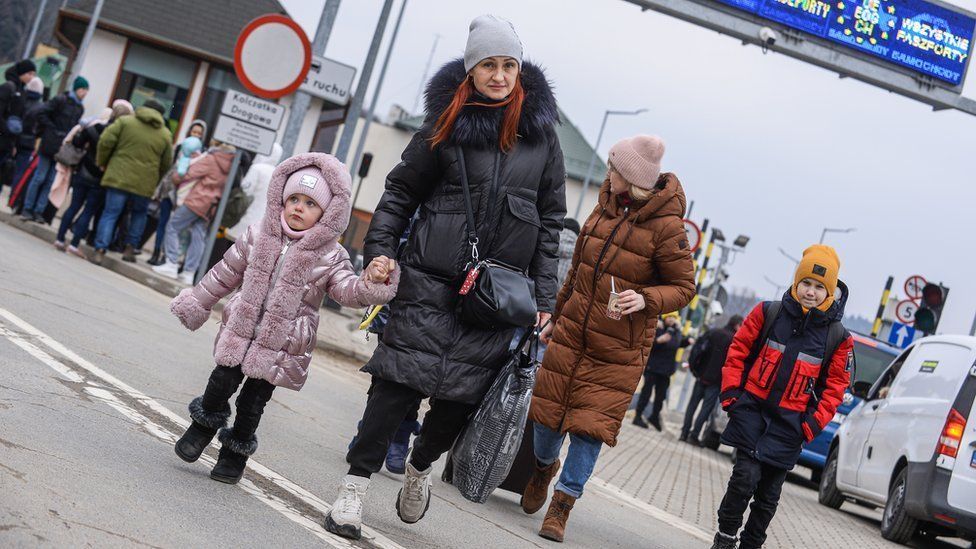 Concerns about the "availability of appropriate accommodation" to house Ukrainian refugees have been raised by a senior Labour Senedd member.
Committee chair John Griffiths said refugees could be stuck in temporary welcome centres and with host families.
A minister acknowledged that resources for housing and resettling Ukrainian refugees are "under strain".
Under the programme, launched in March, the Welsh government has directly sponsored nearly 3,000 people to come to Wales, with most yet to arrive.
The scheme is separate from the rest of the UK Homes for Ukraine programme where refugees are sponsored by individuals, charities, community groups or businesses.
Local Government Committee chairman John Griffiths said its members were "particularly concerned at the availability of appropriate accommodation to enable people to be given a tenancy of their own".
"We are aware of the acute demand on housing services with around 10,000 people currently in temporary accommodation as well as refugees from Afghanistan still awaiting permanent accommodation," the Labour Senedd member told Social Justice Minister Jane Hutt in a letter.
"We are concerned that people from Ukraine may have to stay at the welcome centres longer than three months or remain with host families longer than the envisaged six months."
The letter goes on to warn that "longer periods could impact the sustainability of host placements as hosts may require their space, or relationships could become strained, particularly if living costs continue to increase".
Responding, Ms Hutt said pressures in housing services are a "key consideration in the response to the Ukraine crisis".
"A considerable amount of work is underway to increase medium and long-term accommodation to both assist in the Ukraine response and to respond to the wider pressures in temporary accommodation provision", she said.
The response went on to say that "specialist resettlement and housing teams are generally leading on the response and their resources are under strain given both the scale and novel features of the Homes for Ukraine model".
Visiting a specialist camp which is currently home to 60 Ukrainian families, First Minister Mark Drakeford acknowledged the "challenge for the coming weeks" is to help more people leave the centre and into more permanent placements so more refugees can be housed and helped.
"Our focus has been on the arrival of people but now we have 4,000 people wanting to come to Wales when we originally expected 1,000," he said.
"We've got to focus on people moving on from our centres so there are long-term prospects for people who are here temporarily."
Council and migrant services told a meeting of the committee, on Wednesday, that pausing the Welsh super-sponsor scheme was "sensible".
Pembrokeshire council said there was an "acute shortage of move-on accommodation" for refugees.
Its head of housing Gaynor Toft said: "We've been overwhelmed and grateful for the response from sponsors offering up their accommodation.
"But it is questionable as to the long-term sustainability of that and that's a concern that we also have."
Natalie Zhivkova, from the Wales Council for Voluntary Action, told MSs: "From what I understand most centres are full or at almost full capacity.
"So a bit of a bottleneck is happening because very few people have actually been resettled into more permanent accommodation which then causes more stress for the refugees themselves, statutory services and voluntary sector services."