HS2: Senedd Tory leader wants share of cash for Wales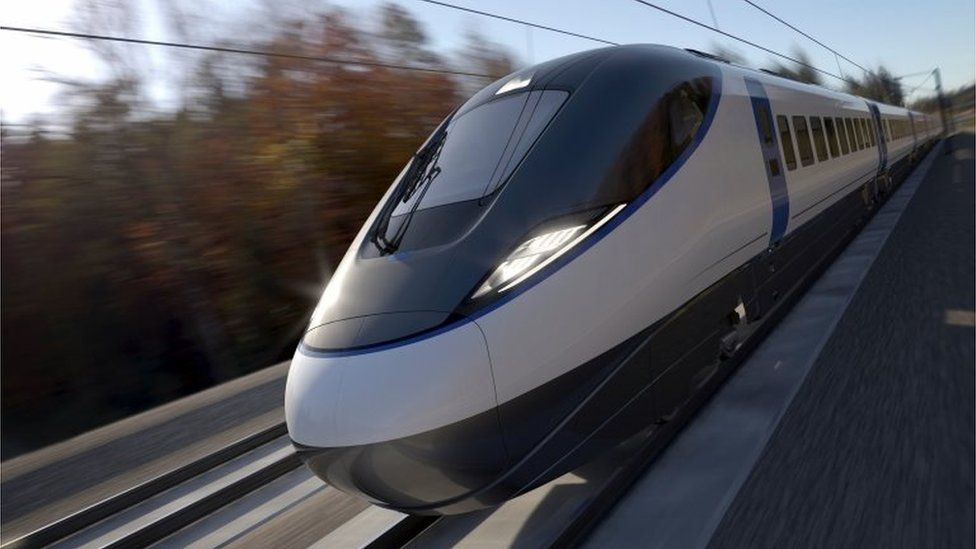 Wales should get its "fair share" of cash from building the HS2 high speed rail project in England, the Conservatives' Senedd leader has said.
It comes as Andrew RT Davies used a speech at a party conference say the Welsh Conservatives should build its own identity.
His call for extra cash is at odds with Tory UK government policy.
But Prime Minister Boris Johnson - who also appeared at the event - refused to be drawn on whether he agreed.
He also mocked Mr Davies' calls for a bank holiday on St David's Day, and said the party should "work together".
While the Scottish Tories are more independent from the rest of the Conservative party, the Welsh part of the organisation is not, and does not have a Welsh figurehead.
Andrew RT Davies is one of three senior figures in Wales, with Welsh Secretary Simon Hart, and the party's Welsh chairman Glyn Davies.
Speaking at the Welsh Conservative conference in Newtown, Powys, Mr Davies said: "We need to continue to build on the Welsh Conservative brand and build our own identity as a proud Welsh party.
"Proudly British, proudly Conservative, we need to be promoting what we do in Westminster but standing strong and tall in the Welsh wheat field, not bending in the wind."
"Wales and Welshness don't belong exclusively to Labour."
The speech had intended to also focus on housing, with criticism of Welsh Labour ministers for "building barely half the number of houses" needed.
A proposal to change planning rules and force builders to complete, rather than just begin, work on land for which they have planning permission was trailed in advance.
But Mr Davies, complaining of the pages of his speech being stuck together as he spoke, missed the section out.
'Modern transport network'
On HS2, he said his party is "making the case that Wales should receive its fair share of HS2 spending".
"We believe that instead of banning roadbuilding like labour, we need to push on and build a modern and sustainable transport network of road and rail."
In his speech at the same event, Mr Johnson made light of the request.
"I salute your campaign for St David's Day - I don't know what to do with it but I will definitely salute it," he said.
Mr Johnson said his government is "delivering record low unemployment and growth", and used the speech to announce that his government was looking to build a small modular reactor in Trawsfynydd.
"Wales will be at the heart of our mission now to fix the underlying issues in our energy market," he said.
In an interview with Newyddion S4C Mr Johnson was asked five times if he would back Mr Davies call, but he refused to be drawn on whether he would support it.
He said: "It's his job as leader in Wales to lobby for funding for Wales. I used to be mayor of London - that's what you do."
Asked if he was comfortable with efforts for the party in Wales to distance itself from the rest of the UK Conservatives, he said: "What we want to do is work together and deliver for the people of Wales."
'We're going to get through this'
Mr Davies's comments on HS2, a multi-billion pound scheme to create high-speed rail links between London and major cities in the Midlands and north of England, refer to the fact that Wales is not getting extra funding as a consequence of the building taking place in England.
That is despite the fact Scotland and Northern Ireland will both receive proportional additional payments.
This is because the UK government has classified HS2 as an England and Wales project, despite calls from a committee of Welsh MPs for the project to reclassified as England only, which would enable Wales to get that extra money.
Mr Davies, however, told WalesOnline that he would prefer the cash to go straight to Network Rail - which is not devolved - rather than the Welsh government.
Andrew RT Davies has challenged the UK Conservative leadership over policy issues before - over his support for Brexit, his criticism of the cost of HS2 and the call for a St David's Day bank holiday.
But it's clear that he and his Senedd team want to go further - especially after the recent local election drubbing - and while their initial steps at this conference are notable, they're also relatively cautious.
After all, Mr Davies has already ventured into dissident territory on HS2 so another step on that particular issue is perhaps something the UK party is relaxed about.
The challenge facing those trying to steer the new "distinctive Welsh voice" policy is in deciding when and how to push forward into new areas of divergence, perhaps even conflict, with their UK government colleagues.