Senedd reform aim is to keep Labour in power, says UK minister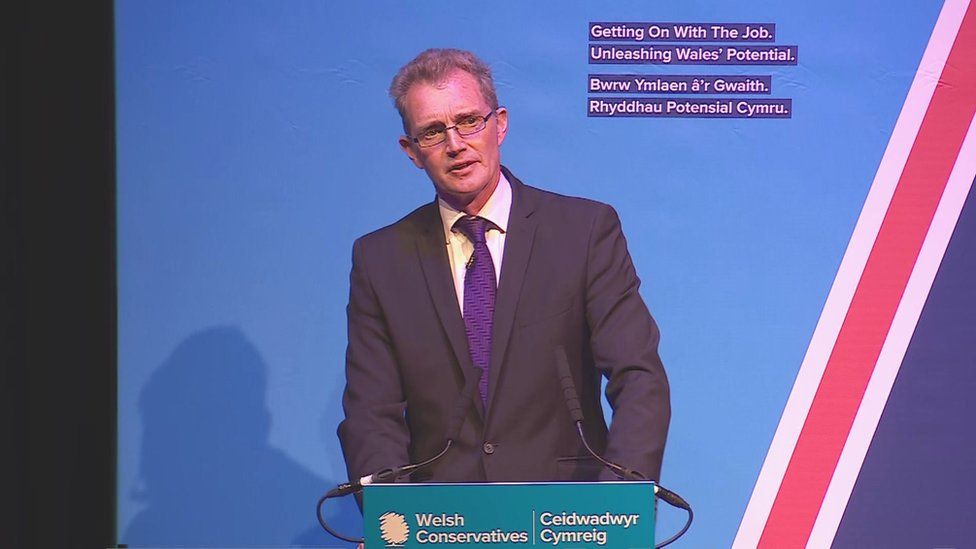 The Welsh Labour government is seeking to "lock" itself in power "forever" with proposals to expand the Senedd, a UK government minister has said.
Wales Office minister and Tory Monmouth MP David TC Davies said the electoral system envisaged would "concentrate power in the hands of" party managers.
He was addressing his party's Welsh conference in Newtown on Saturday.
Under the plan, unveiled earlier in May, people would vote for parties, rather than candidates, with 96 Members of the Senedd (MSs) spread over 16 constituencies.
The new system would use what is known as a "closed list system", where voters back a party list rather than a candidate, and cannot reject any individual candidates nominated.
Parties would be forced to nominate lists equally made up of men and women, with candidate lists alternating between men and women in a system known as zipping.
The plan would mean scrapping the first past the post system, currently used to elect 40 of the 60 Senedd members as well as MPs at Westminster, for Welsh Parliament polls.
The proposals were laid out in a joint paper by Labour First Minister Mark Drakeford and Plaid Cymru leader Adam Price, whose party is in a co-operation agreement with Welsh ministers.
They were submitted to a cross-party committee on Senedd reform, due to report at the end of the month.
Between them Labour and Plaid have the two-thirds majority required to get the plan through the Welsh Parliament.
But Mr Davies told the conference that "by creating huge constituencies and using close PR [proportional representation] lists they're going to remove the local accountability, which was supposed to be one of the advantages of having a Senedd, and concentrate power in the hands of a few party managers".
"The simple fact that they kept these plans a secret until the day after the local council elections tells us all we need to know," he said.
It was, he said, the task of Conservatives to "fight against Welsh government plans to try and lock in a Labour government forever by removing local representation and fiddling with the voting system".
Welsh government Deputy Climate Change Minister Lee Waters has defended the proposals on the basis "everybody's got their own favourite electoral system, and not one electoral system is without its drawbacks".
"And it gives us a law-making tax raising parliament that is up to the task of scrutinising the government and taking Wales forward," he told BBC Wales last week.
The Welsh Parliament has direct law-making powers and some tax-raising powers, unlike the institution that was created as the Welsh Assembly in 1999.
The argument for a larger Senedd is that 60 members is insufficient to scrutinise government decisions and proposed laws in the main chamber and committee rooms in Cardiff Bay.
Later, England's Health Secretary Sajid Javid launched a fierce attack on Labour's handling of the Welsh NHS.
Labour ministers were "more focused on expanding the number of politicians in the Senedd than the number of appointments in hospital" and "failing to support doctors and nurses and patients when they need it", he said.
"The latest data, here in Wales, shows that one in five Welsh people are on the waiting list, with an astonishing one in four Welsh patients waiting for over a year for treatment.
"You cannot trust Labour to manage the health service."
The Welsh Health Minister, Eluned Morgan, said the whole system was under "huge pressure" but more than 250,000 outpatients had been seen in the previous month.
"We're working with health boards to make sure that they put the measures in place to make sure that they hit the target so that we're not expecting anybody to wait more than a year for outpatients by the end of this year," she said.