Dyfed-Powys Police chief calls for fresh drugs approach
By James Williams
BBC Politics Wales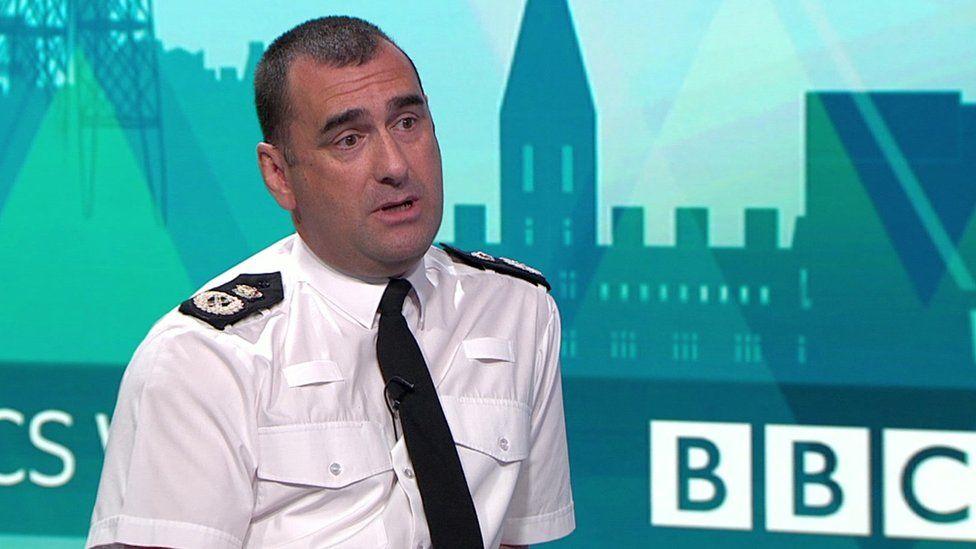 Drug-related deaths in Wales "will continue to rise" unless a different approach is taken, according to Dyfed-Powys Police's chief constable.
Richard Lewis said he believed drug use should be seen as a public health issue rather than a criminal justice problem.
He said evidence around decriminalisation of drugs should be taken from other countries, but admitted it was a "political matter".
The Home Office said it was investing in treatment and recovery services.
According to Public Health Wales, deaths involving cocaine have been on the rise, representing 15% of all drug misuse death in 2020.
Speaking on the BBC Politics Wales programme, Mr Lewis said: "Despite some notable successes in terms of seizures, we still see those drugs on our streets.
"Having spoken to numerous heroin addicts... I asked one heroin addict: 'As soon as we take your dealer out how soon is it before you are able to access drugs?' and he said: 'The same day'.
"If we keep doing things in the way that we have for the last 50 years... we will achieve the same results and deaths will continue to rise."
"I think two things can be true at the same time. I think we can have a public health approach to those that suffer from drug use, those that are addicts, and we can have a criminal justice response to those that peddle drugs in our communities.
"But it's important that we do take evidence from other countries."
He said police powers to stop and search people "takes drugs off our streets and that leads to convictions and imprisonments for those that offend".
Stop and search not enough
According to the data for 2020-21, 56 out of every 1,000 black people were stopped and searched in Wales, compared to 28 per 1,000 people from a mixed ethnic background, 16 per 1,000 Asian people, and eight per 1,000 white people.
Section 60 orders allow stop and searches to be carried out without requiring "reasonable grounds".
Mr Lewis said: "Stop and search works - 16,000 knives and instruments were taken off the streets last year due to stop and search tactics.
"Any knife taken off the street is a good outcome... but it would be a pretty blunt instrument if the only thing we did as a criminal justice response was stop and search.
"It's important to say that those disproportionality figures are now dropping and that's a result I think of the work we've done with police officers to ensure they're adequately trained, understand bias and unconscious bias."
The Home Office said the UK government's 10-year strategy would "drive down drug supply and demand through tougher response to criminal supply chains".
"We also know through our Project ADDER, which aims to cut drugs crime, how important local partnerships are to addressing drug use and this is why our strategy is focused on drug treatment and recovery services, with an additional £780m over three years specifically to rebuild those," it added.
"Additionally, the government is investing £300m dedicated funding to tackle drug supply and country lines over the next three years."