Senedd: Plans for 96 politicians agreed by Labour and Plaid
By David Deans
BBC Wales political reporter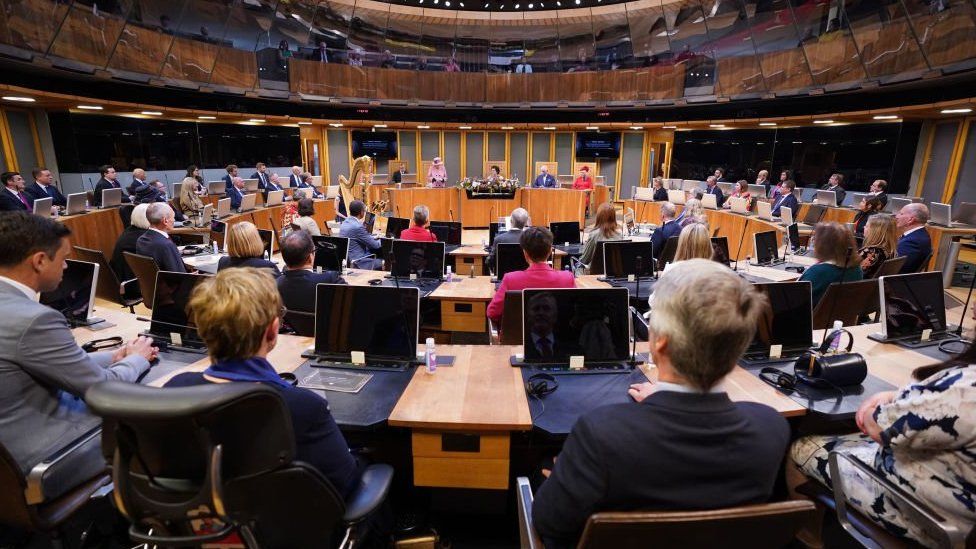 Plans to increase the number of politicians in the Senedd by more than half have been unveiled.
It would mean the Welsh Parliament going up to 96 members, a rise of 36.
There have been calls to expand the Senedd to cope with its increasing workload, and it would be the first change in size since it opened in 1999.
The plans, which include proposals to boost the number of women elected, have been set out by Labour and Plaid Cymru, while Conservatives are opposed.
First Minister Mark Drakeford said the proposals would put right a Senedd that currently cannot do the job people in Wales expect.
But the plans angered the Welsh Conservatives, which in response resigned from a committee considering the future size of the Welsh Parliament.
The scheme would need to be agreed by two-thirds of MSs to become law, but with Labour and Plaid having the numbers it is highly likely to pass.
The 96 Senedd members would be split across 16 constituencies, with each electing six MSs.
Members of the public will get one vote to back the party of their choice, with parties nominating lists of candidates.
Parties will be required to nominate an equal number of men and women and, in a system called 'zipping', the lists must alternate between men and women.
For example, it would mean the Labour list might have a woman at number one, followed by a man, then a woman and so on.
The plans would see the first past the post system - which is currently used to elect 40 of the 60 Members of the Senedd (MSs) - scrapped for the Welsh Parliament.
At present voters get two votes - one for their local constituency through first-past-the-post, and the other for their region through a party list.
The agreement follows talks between First Minister Mark Drakeford and Plaid Cymru leader Adam Price, whose party is in a co-operation agreement with the Welsh government.
Those constituencies would be paired to create 16 Senedd constituencies, with each electing six members.
But that would be a plan for just one term - for the 2031 election, the boundaries of constituencies would be the subject of a review to be held in this current Senedd term.
The proposals are laid out in a joint paper written by Mr Drakeford and Mr Price.
It has been submitted to a cross-party committee looking at Senedd reform, which is due to report back at the end of May.
In the Senedd, Mark Drakeford said "report after report" had demonstrated the Senedd in its current form "cannot do the job in the way that people in Wales have a right to expect it to be done".
"The reforms we've agreed on will put that right," the first minister told the Senedd.
He spoke in First Minister's Questions in response to Adam Price, who said at the heart of the plan "is a desire to build here in Wales a modern democracy, abolishing the unfair first-past-the-post system" with "a fully gender-balanced working parliament committed to making a difference in people's lives".
On a day when the UK Government is laying out its new programme, including creating more jobs, making streets safer & even more NHS support, Welsh Labour & Plaid Cymru announce plans for another £12 million worth (at least) of more politicians …

— Simon Hart (@Simonhartmp) May 10, 2022
Senedd reform is a part of the agreement. Ms Jones said it "probably did go beyond the guidance that I have issued" and asked for it not to happen again.
Tories quit Senedd reform committee
The party accused Labour and Plaid Cymru of undermining the work of the Senedd reform committee. Their representative on the body - Darren Millar - quit in response.
Senedd Tory leader Andrew RT Davies said: "Wales does not need more politicians in Cardiff Bay - we need more teachers, doctors, dentists and nurses.
"Whilst we have consistently objected to more politicians, we recognise Labour and Plaid have enough votes to push ahead and that's why we have engaged constructively with the Senedd Reform Committee - but sadly it appears both parties have completely undermined the committee's work with today's announcement."
Mr Millar said the announcement before the work of the committee was complete "effectively terminates its ability to draw independent conclusions".
Committee chairman Huw Irranca-Davies said he regretted the group would not have a representative from the Tories.
He said the joint statement would help inform the committee's work, but any proposals for future legislation "are ours to make collectively as a committee".
Creating more politicians will always be a hard sell to voters, and the Welsh Conservatives will make the most of this at a time when pressure on household budgets is increasing.
But in agreeing a number at the higher end of the spectrum, Plaid and Welsh Labour have clearly decided to rip off this painful plaster in one go.
Between them the two parties have the two-thirds majority to get the plans through the Senedd, but it has required compromise.
Plaid would probably have preferred a more proportional system to the one that's currently used to elect regional members, but that would have made it more difficult for Mark Drakeford to get Welsh Labour party buy-in.
But Plaid have secured their main objective which was to get reform in place in time for the next election.
Big parties 'could win most seats'
A Welsh politics expert says Wales' big three parties - Labour, the Conservatives and Plaid Cymru - would likely still win most seats.
Jac Larner, of Cardiff University, said the new electoral system "will be more proportional" than the current system - in reflecting who voters have backed - but will not be "fully proportional".
Based on 2021 results, in at least 12 of the 16 new constituencies parties would face a threshold of more than 12% of votes to win a seat.
"In reality this means that the big three parties... will still win nearly all 96 seats unless voting behaviour drastically changes," he tweeted.
"This could happen as people learn about electoral system but unlikely to happen in short term."
Welsh Liberal Democrat leader Jane Dodds said the agreement falls short "of what we need to create a Senedd and a democracy that's fit for Wales".
She accused Plaid of abandoning their commitment to the single transferrable vote (STV) system.
"The proposed constituency map will mean nothing to communities, and we will still be lumbered with a voting system that fails to ensure that votes match seats."
"In a scramble to make an announcement, Plaid Cymru and Labour have ensured that the debate about whether the Senedd is fit for purpose will start no sooner than these proposals are brought into law."
Plaid Cymru has backed the STV system in the past - where individuals candidates are ranked by voters.
It can be considered to better reflect who voters want to support than other systems, but can require large constituencies.
Under the plans, MSs would be allocated using the D'Hondt mathematical formula - which is currently used to make the Senedd better represent how people voted through the election of regional candidates.
The move was welcomed by the Electoral Reform Society Cymru, who said "it is yet another rejection of the kind of outdated winner-takes-all politics that we've come so accustomed to in Westminster".
Calls for Senedd reform have increased as powers have accumulated in Cardiff Bay.
After a referendum in 2011, the Welsh Parliament - then the National Assembly for Wales - was given direct law-making powers for the first time.
The UK parliament has since devolved more policy areas and handed over some control over taxation, including the power to vary income tax.